TWICE 2018: Jihyo And Dahyun Want To Sing Karaoke With These Celebrities, Find Out Who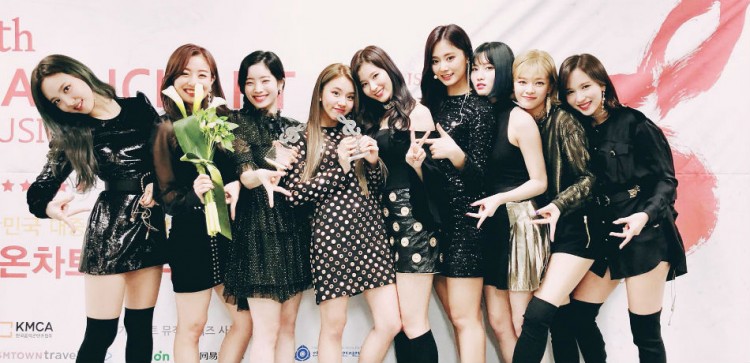 TWICE is considered one of the most successful K-pop girl groups to date despite being fairly new compared to other bands. But even though their popularity is fast growing, the members of the JYP Entertainment group have remained humble and revealed that they are the ultimate fangirls of other South Korean celebrities.
Three out of the nine members of TWICE, Nayeon, Dahyun, and Jihyo, appeared in a "Sing My Song" segment of Happy Together 3 on April 26. K-pop Star Season 4 runner-up Jung Seung Hwan, singer, TV show host, and former competitor of I Am a Singer Season 4 Hwang Chi Yeol, and rappers Dynamic Duo (Choiza and Gaeko) were also a part of the noraebang (karaoke).
TWICE's Jihyo And Dahyun Reveals The Stars They Want To Do Karaoke During Happy Together 3 Guesting
Upon arrival on the show, TWICE's Jihyo just couldn't contain herself and shared that she was looking forward to joining the karaoke party. The 21-year-old singer also noted that she was really confident that she will do good.
"I really wanted to come here because I love noraebang," Jihyo revealed. "I always hear people singing our songs at noraebang, so I'm confident today."
The TWICE members were then asked if they have certain celebrities that they want to do Karaoke with. Jihyo chose IU and Dahyun picked comedian Kim Young Chul.
Park Bo Gum Finally Noticed Twice! Here's What He Did To Support Biggest Fangirls
Meanwhile, IU and Kim Young Chul are not the only celebrities that TWICE idolize. Nayeon, Jeongyeon, Momo, Sana, Jihyo, Mina, Dahyun, Chantoung, and Tzuyu, have always been known to have a soft spot for Park Bo Gum. Multiple clips even revealed that the girls get all shy when they had the chance to meet the Love in the Moonlight star.
Fortunately, the love is not one-sided. As it turns out, Park Bo Gum is also a fan of TWICE! Numerous times, the 24-year-old South Korean actor was spotted dancing to the JYP Entertainment girl group's songs in some of his television appearances.
© 2023 Korea Portal, All rights reserved. Do not reproduce without permission.