Twice May Have Nabbed Another #1 Win In Inkigayo But Lost This Spot In JYP To Stray Kids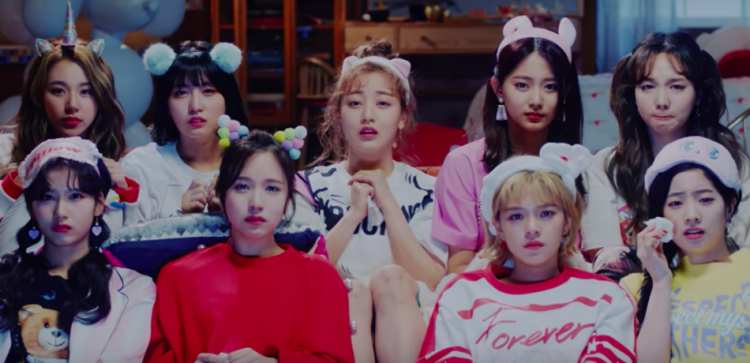 Twice may have debuted less than five years ago, but the South Korean girl group has garnered so much love from fans that they quickly became one of the most sought-after K-Pop bands to date. The nine-member group just recently nabbed another win under their belt; however, they lost against their company's new boy band Stray Kids as the maknae (youngest) of JYP Entertainment. Now, the girls share how they truly feel about it.
For those who have been living under a rock, Twice is a South Korean girl group that is composed of nine members, Nayeon, Jeongyeon, Momo, Sana, Jihyo, Mina, Dahyun, Chantoung, and Tzuyu. The JYP Entertainment superstars debuted in 2015, but they rose to fame in 2016. After that, the girl group has become unstoppable, winning awards after awards and the recent one is no exception.
Twice released their new single "What is Love?" earlier this month and they have been busy promoting their new song. Just like any other K-pop group, Nayeon, Jeongyeon, Momo, Sana, Jihyo, Mina, Dahyun, Chantoung, and Tzuyu worked really hard to put their new single out there. As it turns out, all of their hard work has finally paid off as the music video did not only gather over 60 million views and over 1 million likes on YouTube, but the girls also took the #1 spot in Inkigayo's recent chart.
The group hailed as the victor against their equally popular opponents, WINNER, and Nilo. "What is Love" is Twice's 7th song that won #1 in Inkigayo since 2016. Other songs were "Cheer Up," "TT," "Knock Knock," "Signal," "Likey," and "Heart Shaker."
Despite all their back-to-back wins, Twice recently lost in a totally different category, which is being the maknae group of JYP Entertainment. That position is currently being enjoyed by Stray Kids.
Just like Twice, Stray Kids is also a nine-member K-Pop group. Bang Chan, Woojin, Lee Know, Changbin, Hyunjin, Han, Felix, Seungmin and I.N just debuted last month after they were formed in a 2017 reality show of the same name.
Now, Twice revealed in their recent radio program guesting how they really feel about Stray Kids taking their maknae spot away from them. While some may think that the girls will be upset about it, they were actually happy to finally graduate from that position.
"We're still the second youngest at JYP, but we're so happy we now have a junior below us," Jihso said. "We received CDs from them a while ago and I even wrote messages for each member." Naeyon then added, "It's really cool that we've become sunbaes (people with more experience)."
© 2023 Korea Portal, All rights reserved. Do not reproduce without permission.