'Avengers: Infinity War': Robert Downey Jr. Reacts To Possible Death Of Iron Man In Upcoming Installment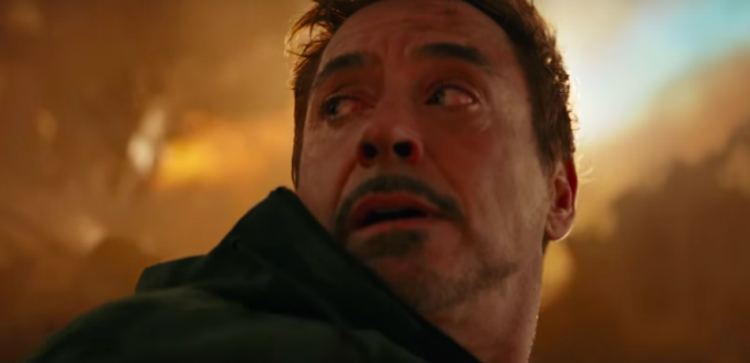 After the Avengers: Infinity War trailer was released back in November, viewers noticed that Robert Downey Jr.'s character, Tony Stark a.k.a. Iron Man, appeared to be dealing with something big. Some even believed that this could be the end of everybody's favorite genius, billionaire, playboy philanthropist. In fact, RDJ recently opened up about the possible death of his character.
In an event hosted by Jeff Goldblum (Grandmaster), the cast of Avengers: Infinity War assembled on Sunday in Beverly Hills for a much-awaited press conference. Dave Bautista (Drax), Paul Bettany (Vision), Chadwick Boseman (T'Challa/Black Panther), Josh Brolin (Thanos), Don Cheadle (James Rhodes/War Machine), Benedict Cumberbatch (Dr Stephen Strange), Robert Downey Jr. (Tony Stark/Iron Man), Winston Duke (M'Baku), Danai Gurira (Okoye), Chris Hemsworth (Thor), Tom Hiddleston (Loki), Tom Holland (Peter Parker/Spider-Man), Scarlett Johansson (Natasha Romanoff / Black Widow), Pom Klementieff (Mantis), Anthony Mackie (Sam Wilson/Falcon), Elizabeth Olsen (Wanda Maximoff/Scarlett Witch), Chris Pratt (Peter Quill/Star-Lord), Mark Ruffalo (Bruce Banner/The Hulk), Zoe Saldana (Gamora), Sebastian Stan (Bucky Barnes/Winter Soldier), Letitia Wright (Shuri) were in attendance, including directors Anthony and Joe Russo and producer Kevin Feige. Unfortunately, Chris Evans (Steve Rogers/Captain America) wasn't able to make it at the event due to his other engagements.
Since his character started it all for Marvel Cinematic Universe, Robert Downey Jr. got the first question. When asked if he will be in Avengers 4, the 53-year-old actor responded, "We'll never know. If I die tomorrow, I'm gonna be confused. We'll see.
It was previously reported that Kevin Feige is open to the idea that a major character will be killed off. He even confirmed that some characters would face their demise in the next installments.
"If there's a good story reason for it they were open to anything," one of the film's writers, Christopher Markus, shared to the Toronto Sun. "We didn't want to cut off a flower just as it's beginning to bloom. But a nice big flower? Maybe."
Since Robert Downey Jr. has always noted that he is done playing Iron Man, many believed that he is not exempted from the chopping block. However, fans are still hoping that Marvel will spare him as he is so loved by everyone and the Avengers will never be the same without him.
In the meantime, fans can still watch Robert Downey Jr. as Iron Man in Avengers: Infinity War when it hits theaters on April 25, 2018.
© 2023 Korea Portal, All rights reserved. Do not reproduce without permission.