NCT Wows Fans With Their Fierce 'Black on Black' Performance Version MV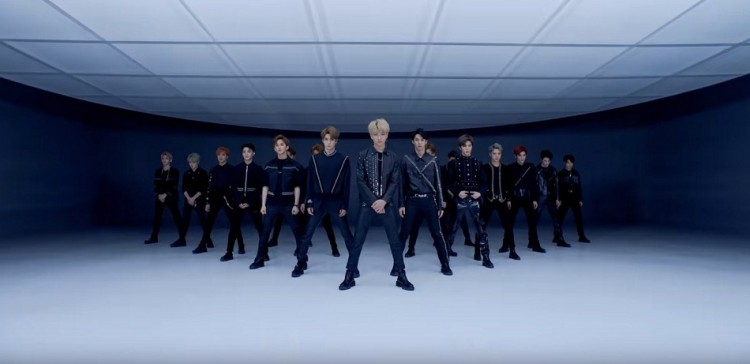 The K-pop group NCT has revealed the performance version of their single "Black on Black" featuring all 18 members of the band. The boys showed off their perfectly synchronized dance moves which impressed netizens.
All 18 members of NCT participated in the "Black on Black" music video. This is the first time all members of the group were featured in the same clip. This means all members of its sub-units, NCT U, NCT 127, and NCT Dream, appeared in the video.
In the "Black on Black" performance version MV, the heartthrobs sported all-black outfits as they executed their acrobatic moves in a monochromatic background. Jeno, Yuta, and Jisung took the center stage to lead the choreography in different parts of the MV. The group's rappers Taeyong, Lucas, and Mark were also seen doing some verses in the track. Ten, on the other hand, stood out in a solo dance choreography towards the end.
"Black on Black" also serves as the formal debut of Kun. He has no other role in the group's music aside from the Chinese version of NCT U's "Without You" in 2016. Earlier this year, Kun officially debuted in NCT.
NCT 'Black on Black' Performance Version MV Teasers
A day prior to the official release of the "Black on Black" performance MV, SM Entertainment dropped a series of teaser videos. The first clip, titled "NCT in The House," featured Jisung, Taeyong, and WinWin. It was followed by "Neo Culture Tech On My Mind" teasers showing Doyoung, Ten, and Johnny, then "Rock Go Hard" of Yuta, Taeil, and Kun.
More teasers followed such as "Get Your Freak On" featuring Chenle, Jeno, and Jaemin, "We the Dream Chaser" with Renjun, Mark, and Haechan, and finally the teaser, titled "Black on Black," featuring Lucas, Jungwoo, and Jaehyun. There were six teaser videos in total.
The hip-hop track, "Black on Black," was originally released on March 14 as part of the NCT 2018 Empathy album. The group earlier dropped NCT U's "Boss" and "Yestoday," Ten and Taeyong's "Baby Don't Stop," NCT Dream's "Go," and NCT 127's "Touch." All tracks are from the same album Empathy.
The group's sub-unit NCT Dream recently reached a milestone with the "Go" MV reaching a whopping 10 million views on YouTube. As for the "Black on Black" performance version MV, it already has over 1.2 million views since it was shared a few hours ago.
© 2023 Korea Portal, All rights reserved. Do not reproduce without permission.