'Outlander' Season 4 Release Date, Theories, Spoilers: 3 Excellent Ways To Rake In New Viewers And The Possibility Of Breaking Out From Book's Story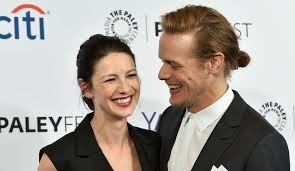 As if Outlander's success is not yet enough, there are new ways that Starz could drive in more viewers for the upcoming Outlander Season 4. Fans have been waiting for Jamie (Sam Heughan) and Claire's (Caitriona Balfe) return to the small screen, and it looks like its home network is preparing for a huge comeback.
According to CarterMatt, there are three ways that Starz can rake in more viewers for Outlander Season 4. The first one is to release the series' first episode for free before or after its airing on television. This could potentially attract new viewers that have no time to watch the show in its usual timeslot.
The second is for Starz to give a preview weekend leading to Outlander Season 4's premiere. The network could do a weekend marathon so the new viewers can catch up with what's happening between Jamie, Claire, and the other major characters. From here, viewers can decide if they want to continue watching the television adaptation of Diana Gabaldon's novel series with the same name.
Lastly, Starz could let Outlander be streamed via streaming services like Netflix or Hulu. With the emergence of streaming services today, viewers are opting to watch new television shows there to catch up on a show's initial episodes to see if they like its tale. If the users like Jamie and Claire's story from here, they can watch the latest episodes on the network.
Meanwhile, talking about Outlander Season 4, Diana Gabaldon and co-showrunner and executive producer Toni Graphia talked about the possibility of her cameo and doing the series outside of the book. In an interview with Entertainment Weekly, the 66-year-old author revealed she might not appear in the upcoming new installment, but she is not yet ruling out the possibility.
Graphia, on the other hand, also talked about the likelihood of breaking up the show's future season on its book story. "The plan was always to do a book a season," she insisted. However, the story writer explained she is not discarding the chance of pulling out a tale from a future novel and put it into the current season. They, too, could split up a certain story from different book installments and tell it in a different way.
Outlander Season 4 is expected to be released later this year on Starz.
© 2019 Korea Portal, All rights reserved. Do not reproduce without permission.