'Red Velvet' Performs At North Korea's Capital, Kim Jong Un Shakes Hand With Each Of Its Members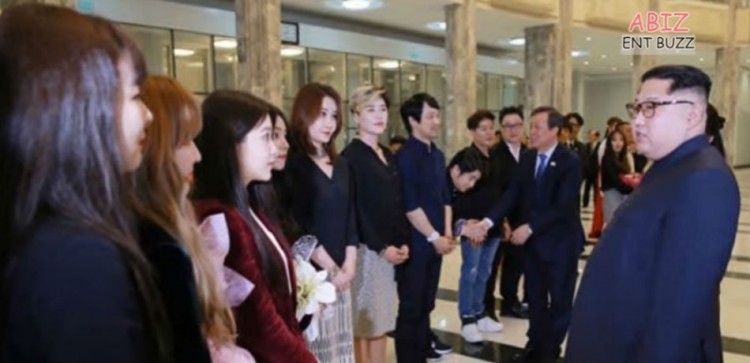 K-Pop girl group Red Velvet did something that it has never done in the past. The members of this renowned South Korean pop group performed for the very first time in Pyongyang. The concert took place on April 1 at the East Pyongyang Grand Theatre in the capital city of North Korea. A cultural delegation comprising of about 160 members from South Korea performed at the show. However, Red Velvet was among the most popular groups performing that night.
Red Velvet performed hits like Bad Boy and Red Flavor to a 150 member strong audience most members of which hailed from the North Korean elite class.
The Purpose of the event
This event was an integral part of the growing movement that is underway for thawing diplomatic tensions between South Korea and North Korea with an aim to make a cross-border friendship possible. To top it all, North Korean leader Kim Jong Un made a surprise visit to the event and reportedly enjoyed the show and confessed to being a Red Velvet fan. He was seen clapping, enjoying and having fun when the members of the band performed on stage. He and his wife, Ri Sol-Ju who was a singer herself were seen highly enjoying the stage performance all through the two-hour span.
Kim Jong Un and his wife took time out to meet all the members after the performance. The leader expressed that he was deeply moved to see his people enjoying the performance and also for a chance to deepen the understanding of the popular South Korean cultures. He personally shook hands with each member of the band too.
Kim Jong Un also expressed his joy publicly as he spoke to the visitors stating, "Please tell (South Korean) President Moon Jae-in how great an event like this is ... I am grateful for a gift like this (concert) to the people of Pyongyang," as reported by South China Morning Post.
Kim Jong Un on a Mending Spree
The dictator has recently been in the news for undertaking a mending spree. He took an unexpected train ride to see Xi Jinping, China's President, which happened to be his first overseas trip since 2011. Meanwhile, this concert comes right ahead of the inter-Korean summit to be held on April 27. There are high expectations that this meet will subsequently lead to a similar collaboration with the US President Donald Trump.
© 2019 Korea Portal, All rights reserved. Do not reproduce without permission.