Red Velvet Thankful For North Korea Concert Experience, Kim Jong Un Makes Surprise Attendance To Watch K-Pop Group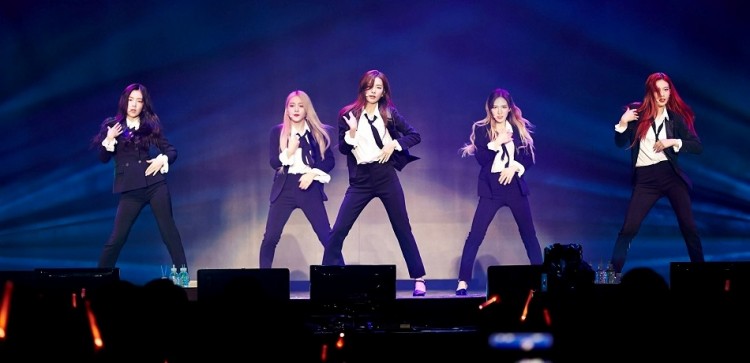 K-pop group Red Velvet is ecstatic to be part of the South Korean artists who were invited to perform in the North Korea concert. The female squad, even without one of its members, had traveled to Pyongyang to perform in the two-night concert. But there is one very important person in Pyongyang who is probably more thrilled to see Red Velvet on stage than any other person in his country. It's Kim Jong-un.
Red Velvet had expressed gratitude after their performance on Sunday. The group felt that it is a rare opportunity to be part of a historical event that aims to bolster peace between the two countries. Red Velvet has confessed that at first, they were apprehensive that the audience might not as responsive as they want them to be. Red Velvet member Wendy, however, said they are very happy that they were wrong as the audience responded enthusiastically to their performance.
"Before we started, we thought and were determined to just show our music to the best of our abilities even if there are no reactions but the audience strongly, positively responded," AllKPop quoted Wendy saying.
"The audience clapped and even sang along to our songs, even more than we expected. Because of that, our nervousness went away," Yeri added.
Red Velvet performed two of their hit singles, "Bad Boy" and "Red Flavor," on the first night of the concert in Pyongyang, dubbed as Spring is Coming. Unfortunately, bandmate Joy failed to join the group because of conflict in her filming schedule for K-drama series The Great Seducer.
Red Velvet Is Kim Jong-un's Favorite K-Pop Group
The leader of North Korea had reportedly made changes in his schedule on Sunday just to see Red Velvet perform on stage. Reports indicate that Kim even mentioned Red Velvet by name in an interview.
The original plan was Kim Jong-un will only attend the joint performance between the two countries on Tuesday. He, however, felt that attending the Sunday's concert of the South Korean artists would be meaningful and decided to make changes to his schedule.
"There had been interesting in whether I would come and see Red Velvet. I originally intended to visit the day after tomorrow, but I adjusted my schedule to come today," said Kim Jong-un, as quoted by a South Korean official (via Yonhap News).
The leader and his wife Ri Sol Ju and sister Kim Yo Jong showed up at the East Pyongyang Grand Theatre on Sunday. This makes him the first North Korean leader to attend a performance by the South Korean artists.
Meanwhile, the sudden change in Kim's schedule resulted in a delay in the concert. The show was supposed to start at 5:30 p.m. However, it was delayed for an hour because of anticipation for Kim Jong-un's arrival.
Aside from Red Velvet, K-pop icons Cho Yong-Pil, Lee Sun-hee, Choi Jin-hee, as well as Seohyun of Girls' Generation, also performed in Sunday's concert in Pyongyang. A joint performance by both South and North Koreans artists is slated on April 3. Kim Jong-un is also expected to grace the event.
© 2023 Korea Portal, All rights reserved. Do not reproduce without permission.