'Avengers: Infinity War' Spoilers And Predictions: Major Death Might Be From These Three Key Characters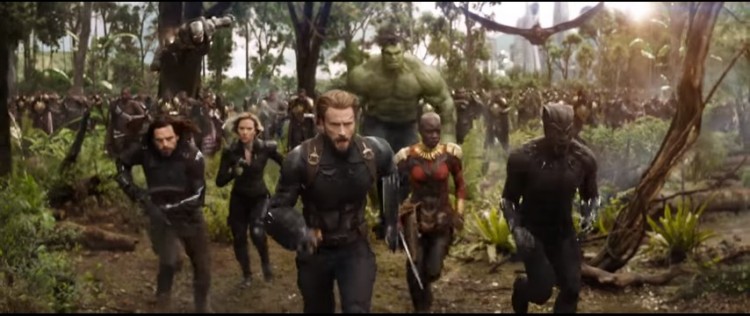 It looks like someone is going to die in the upcoming Avengers: Infinity War movie. In fact, Marvel Studio's President Kevin Feige, one of the movie's writers, and Robert Downey Jr. himself have been hinting a major death coming.
According to Daily Express, it is most likely that one of these three characters— Iron Man (Downey Jr.), Captain America (Chris Evans), and Thor (Chris Hemsworth)—will bid his final goodbye in Avengers: Infinity War. It is seemingly possible that it is Steven Rogers' character who will be killed.
In fact, this has been hinted in the Avengers: Infinity War trailer where he would go head-to-head with Thanos (Josh Brolin). Adding fuel to the fire, Downey Jr. said that there is a possibility that Evans will be exiting the Marvel Cinematic Universe before him.
According to Metro, he even said that he would miss the 36-year-old star if he doesn't play as Captain America anymore. The Sherlock Holmes star even described the actor as the most "true and most down moral psychology" he has ever seen. Thus, it makes him sad that he has to go.
On the other hand, Feige and the Avengers: Infinity War writer Stephen McFeely hinted that someone is about to say goodbye in the movie. "The notion of an ending, the notion of a finale, became very intriguing to us, in large part because you don't see it that often in this particular genre," said the Marvel Studios president.
McFeely even supported the claim when he added that they "will say farewell to the people." Meanwhile, Cinema Blend listed the other possible characters who might face their deaths in Avengers: Infinity War.
As a lot of these actors' contracts are about to end, other roles could potentially meet their demise. One of them is Drax (Dave Bautista). Drax the Destroyer wanted to take revenge against Thanos for killing his family. So, with his reckless actions, it is not far that he might get killed.
Thanos and the Black Order might also take vengeance against Gamora (Zoe Saldana) because of her family. With that, she is also not safe in Avengers: Infinity War. Also, Nebula (Karen Gillan) has an eye to kill Thanos as this villain has physically and emotionally tortured her. So, fans have to wait and see who will come first.
Lastly, Vision (Paul Bettany) has what Thanos' wants, the Mind Stone. As this is placed on his head, the antagonist will surely do everything to get it to power the Infinity Gauntlet.
© 2023 Korea Portal, All rights reserved. Do not reproduce without permission.