North Korea's Kim Jong-Un Could Launch Missile Attack On Europe, German Spy Agency Reports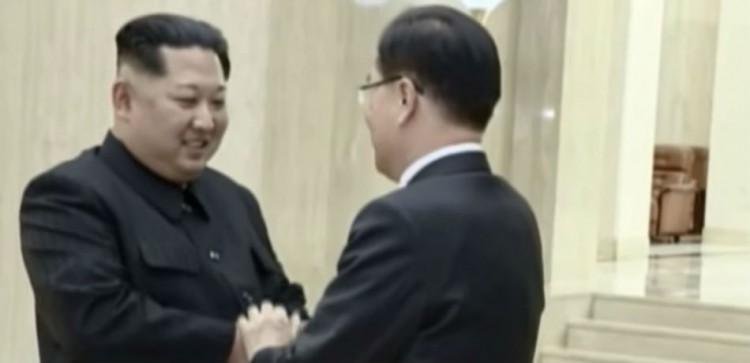 Germany should be very careful now! North Korea can launch a missile attack fitted with nuclear weapons on Germany and Central Europe. A top official with German foreign intelligence revealed the information to the lawmakers. The report was first published in the Bild am Sonntag newspaper.
Germany and Central Europe are under nuclear threat
A top intelligence official had warned that the North Korea's dictator, Kim Jong-un, might launch an unprovoked missile strike on Europe at any time after developing an ultra-long-range rocket. Although Britain is considered safe for now, the fanatic leader's new weapon puts central Europe in range of his nuclear weapons. The reports claim that newly developed missile is capable of striking the heart of Europe and bringing devastating effect the world has ever seen.
According to Reuters, BND Deputy Director Ole Diehl notified the information to the lawmakers during a closed-door meeting. Even Diehl opined that the "agency viewed talks between North and South Korea as a positive sign." However, everyone is waiting for an official statement from the BND officials.
The source also noted that on Friday, a senior North Korean diplomat left for Finland to have meetings with South Korea and the formal United States officials. This took place in the midst of a chain of diplomatic encounters ahead of a likely North Korean - United States summit.
While South Korea and Japan have long been the most vulnerable nations to North Korea's nuclear weapon attacks, Europe and the United States have entered the list in recent years. North Korea's dictator Kim Jong-un has already spent millions of dollars in its military and missile testing programs for frightening these nations.
War tensions have eased recently
However, The Sun reported US President Donald Trump's remark that claimed that North Korea would not test another missile test until after his planned talks with the dictator. It is also said that Trump may meet Jong-un in May to discuss "specific conditions" that North Korea would have to meet first. However, there is no official confirmation from the White House when Trump will meet him. It should also be noted that after North Korea's participation in the Winter Olympics, war tensions have eased in recent weeks.
© 2023 Korea Portal, All rights reserved. Do not reproduce without permission.