SHINee Is Supposed To Be A Rap Group, Key Reveals His Group Was Terrible In Singing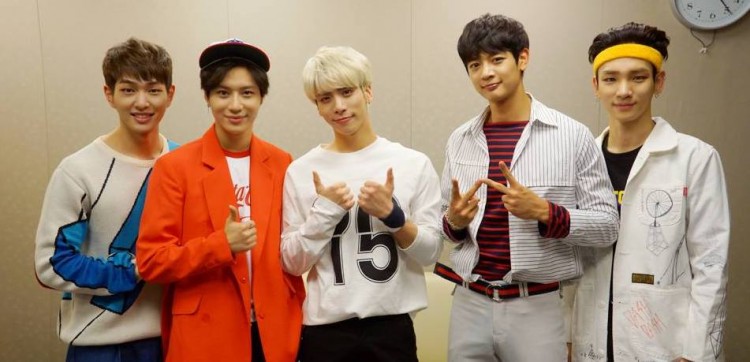 If you think you know everything about SHINee, think again. The popular K-pop band was originally planned to be introduced not as a singing quintet but as a rap group. SHINee member Key has explained why.
Key has admitted during an episode of #KeywordBoA that his group is bad at singing at first. He said their agency's original proposal was to launch them as a rap group. The plan was to do mostly rap with a little part of vocals. He added that their original debut song is not "Replay."
"Our debut song was originally going to be 80% rap and 20% vocals. We were planning to do mostly rap and add only a little bit of singing to our songs," Key said.
Then Lee Soo-man, the founder of the S.M. Entertainment intervened. Key said the agency's big boss disagreed with the rap song. This led the management agency to abandon the rap group idea and introduced "Replay."
The K-pop singer admitted that he and his bandmates were all worried when they were given their debut song "Replay" because it required a lot of vocals. The band worked hard to improve their voices and their very first single was a hit. Today, SHINee is one of the most popular K-pop male group in South Korea and in other countries.
SHINee Taemin In a New Dance Show
In other SHINee news, Taemin is reportedly in talks to host a new dance show for JTBC. If things work out, he will be teaming up with fellow K-pop idols - Super Junior's Eunhyuk and Highlight member Lee Gikwang. Apparently, two more Korean artists will be joining the cast of the variety show that has a working title of The Dancer.
Soompi cited a source from JTBC as saying the network is currently planning a dance variety show for a new channel called JTBC4. The channel is scheduled to be launched next month. Taemin, Eunhyuk, and Lee Gikwang are confirmed to be in talks to lead the show which is expected to premiere in May.
However, it looks like that it is already a done deal. An Instagram account, named "whynot_thedancer," shared a photo of Eunhyuk, Taemin, and Lee Kikwang together. The account is believed to be the official IG account of the dance show. Another photo shows the three idols alongside Super Junior's Shindong, who was referred to as "Director Shin."
The Dancer will follow five idols as they collaborate with a world-renowned choreographer to create a new dance routine for other groups. The cast members are reportedly heading to the U.S. later this month and will spend a week in the U.S. as they create new choreography.
© 2023 Korea Portal, All rights reserved. Do not reproduce without permission.