BTS Update: 'Mic Drop' Singers Reveal Video Messages At 2018 iHeartRadio Music Awards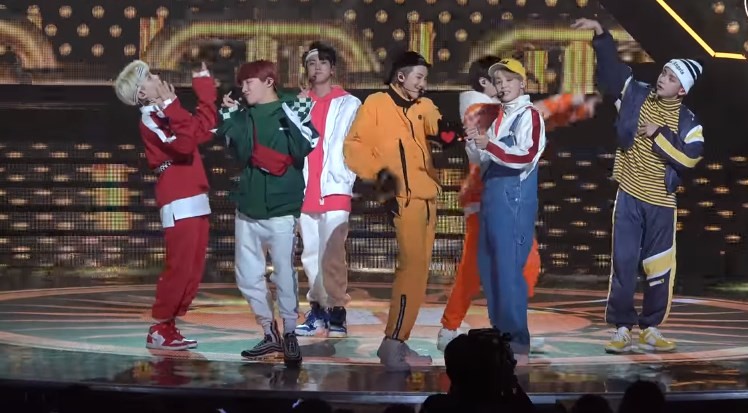 In spite of not being at the 2018 iHeartRadio Music Awards, BTS had swept the ceremonies by winning their two nominations. The "Mic Drop" singers won big as they got the Best Boy Band and Best Fan Army awards.
Unfortunately, BTS didn't make it at The Forum in Inglewood, California because of their busy schedule. Big Hit Entertainment earlier revealed that the group is too engaged in preparing their new upcoming album.
However, for them not to upset their fans, BTS made a video message to give their gratitude to everyone for winning Best Boy Band. "This is the award our BTS Army literally made happen," J-Hope said in Korean, translated by Soompi.
He then thanked them all and said that they truly love them. Of course, with the full support they have been receiving, the Army also got an award. BTS' fans also got the Best Fan Award at the 2018 iHeartRadio Music Awards.
In another video message, the "DNA" hitmakers congratulated their fans, saying that they deserved every bit of it. RM said that they are always overwhelmed by the supports Army is showing all day and night all over the world.
The Best Fan Award just proved the "passion and devotion" the Army is showing for BTS. "You're the best Army in the world!" RM ended his message. Both of the group's video messages were shared on iHeartRadio's Twitter page.
We know what you've been waiting for, the winner of #BestBoyBand is @BTS_twt. And we have another message from the boys! #iHeartAwards2018 pic.twitter.com/IPBQnnrmB3

— iHeartRadio (@iHeartRadio) Marso 12, 2018
The Army's winning was a huge success with 480 million votes compared to its follower that only got 360 million entries. This just made BTS lineup with the likes of Fifth Harmony, Justin Beiber, 5 Second of Summer, and Rihanna, who all got the same recognition in the past.
On the other hand, BTS got the Best Boy Band opposite the Latin boy band, CNCO. In fact, they are first from the K-pop genre that has been nominated at the iHeartRadio Awards, and they surprised everyone with their winnings, according to Comic Book.
You did it #BTSArmy! Congratulations on winning the @tacobell #BestFanArmy Award at our #iHeartAwards2018. And now a message from @BTS_twt! pic.twitter.com/sdLwEpoMDB — iHeartRadio (@iHeartRadio) Marso 12, 2018
This is not the first time that BTS won a major music award from the United States. To recall, in 2017, they conquered the international headlines when they nabbed the Top Social Artist from Billboard Music Award. They even swept a number of major recognition for the mini-album, Love Yourself: Her, in different South Korean music awards.
© 2023 Korea Portal, All rights reserved. Do not reproduce without permission.