'This is Us' Season 2 Wraps Filming; Mandy Moore Reminisce 'Candy' Time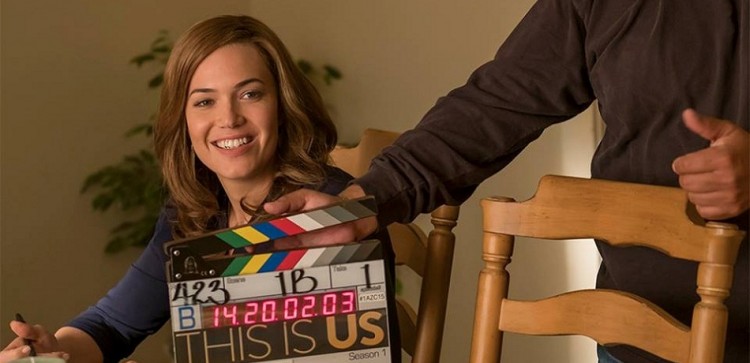 This is Us Season 2 star Mandy Moore is done with wig and prosthetics for now. As the show wrapped up filming for the current season, Moore was nostalgic and brought back her infamous "Candy" look. Her hair is now blonde, almost what she used to look like back in her pop star days.
Since Moore stars in the NBC hit drama, she has been seen on television in her wavy dark brown hair for the 90s screens of the show and in her short brown hair for the present scenes. That changed over the weekend. Courtesy of her hairstylist, the actress shows off her new blonde locks. Many fans reacted that her new hairstyle looks familiar.
That is definitely familiar because it was Moore's hair color during the days when she sings her hit song "Candy." Moore shared a snap of her new bright golden blonde hairstyle over on Instagram. The photo, however, has already been taken down.
"I'm slowly morphing into @streicherhair. Now if I could only master those 'cool girl' waves all on my own. And yes, I wasted no time changing up my hair as sooooon as wrapped up the season on #thisisus. As you do..." Moore reportedly wrote in the caption.
Mandy Moore Changes Appearance on This is Us
Moore has made a major transformation in her appearance for the NBC show. Since the singer/actress portrays Rebecca Pearson in at least two timelines, the make-up crew changes her appearance to what is appropriate for a particular scene. In some scenes, she appeared as 66-year-old Rebecca.
In an interview last year, 33-year-old Moore admitted that the make-up and prosthetics that are used on her do damage her skin. It is not only her face, hands, neck, and chest that get a makeover but also her hair. The Tangled star revealed that the whole process of making her look like a 66-year-old grandma takes about four hours.
Moore, however, did not regret any sacrifices she has done for the show. She has been critically applauded for her performance as Jack Pearson's (Milo Ventimiglia) wife and mother for the Big Three. In fact, she already received a nomination from the Golden Globe Awards for Best Supporting Actress in a Series.
Meanwhile, This is Us Season 2 returns on Tuesday at 9 p.m. ET/PT on NBC. The episode titled "Vegas, Baby" will feature Kate (Chrissy Metz) and Toby's (Chris Sullivan) pre-wedding parties and the early life of Jack when he was still in the military specifically in Vietnam.
© 2023 Korea Portal, All rights reserved. Do not reproduce without permission.