Dak Galbi: Where to Eat and Everything You Have to Know About This South Korean Dish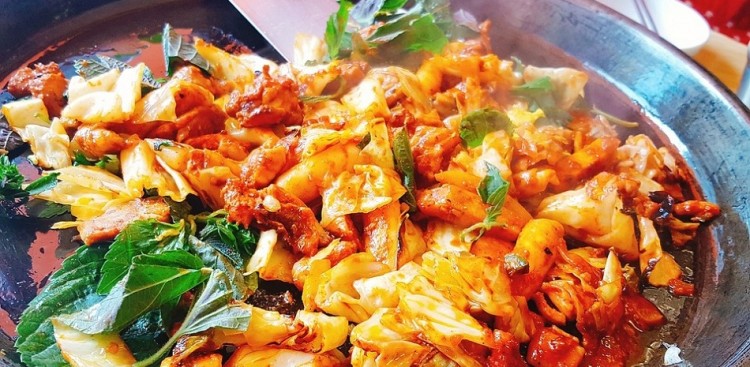 This spicy, stir-fried chicken dish is the most popular local dish in Chuncheon, South Korea. The dak galbi recipe is pretty straightforward. The list of ingredients is simple - marinated chicken, cabbage, sweet potatoes, perilla leaves, and tteok bokki (Korean rice cakes).
All the ingredients are mixed together in a large round iron skillet and topped with sweet and spicy gochujang sauce (fermented Korean chili paste). Some restaurants serve it with Makguksu (buckwheat noodles with vegetables) on the side. It is perfect during the winter season as it gives warmth to the palate of those who take a bit of it.
Dak Galbi Origin
This simple dish has a deep history. It began in the 1960s after the Korean War. When the war leveled the city of Chuncheon, chicken farms became the livelihood of the residents who became poor because of the conflict, CNN reported.
A couple, who owns a popular pork restaurant back then, are the first to cook dak-galbi. Apparently, they ran out of pork so the couple decided to use chicken. They stir-fried the chicken in the same way they do with the pork. The dish became a hit with their customers.
Others started to serve the same dish. Dak galbi became a commoner dish because it is made use of cheap and easy to find ingredients. Throughout the year, it became a symbol of the city's resilience. Eventually, dak galbi restaurants started to emerge in Chuncheon.
Where to Find Best Dak Galbi Restaurants
Of course, the best can be found where everything started - in Chuncheon. Since it's a symbolic and popular food for Chuncheon, the city decided to dedicate an entire road -- the MyeongDong Dakgalbi Street -- to the those who are selling the dish. Travelers can walk down the street and choose where they want to eat.
Although Dak galbi is known to originate from Chuncheon, it can now be enjoyed nationwide. It is particularly popular among students because it is cheap and fun to eat.
Best Dak Galbi Restaurants in Seoul
If traveling to Chuncheon is not an option or you opt to stay in Seoul, here are a couple of restaurants in the city where you can taste the best dak galbi.
Mapo Sutbul Galbi in Nonhyun-dong
Time won't be a problem for you since this is a 24-hour galbi restaurant. Mapo Sutbul Galbi is easy to find as it is located where Korean drama or movie superstars usually hang out - the Nonhyun area (near Apgujeong). Just try to reserve a table since it is a popular place.
Most of the time the tables in this restaurant are being reserved by Kdrama or movie crew after they successfully finished a project. It is evident on its walls where pictures of Korean stars that have eaten in the restaurant are on display.
Phone number: 02-516-1522
Address: Seoul, Gangnam-gu, Nonhyeon-dong 62-6
Closest subway station: Apgujeong Station - line number 3
Sutbul Mapo Galbi near Shincheon Station
This restaurant is also famous for its beef and port marinated galbi. Sutbul Mapo Galbi boasts its special marinade mixture. Instead of using typical seasonings for their galbi recipes, they add plums in the marinade to infuse natural sweetness.
Open: 4PM - 2PM
Phone number: 02-3431-9411
Address: Seoul, Songpa-gu, Jamsil-dong 188-11
Closest subway station: Shincheon Station - line number 2
© 2019 Korea Portal, All rights reserved. Do not reproduce without permission.