Go Hyun Jung Spotted Smoking Inside A Class, Reports Say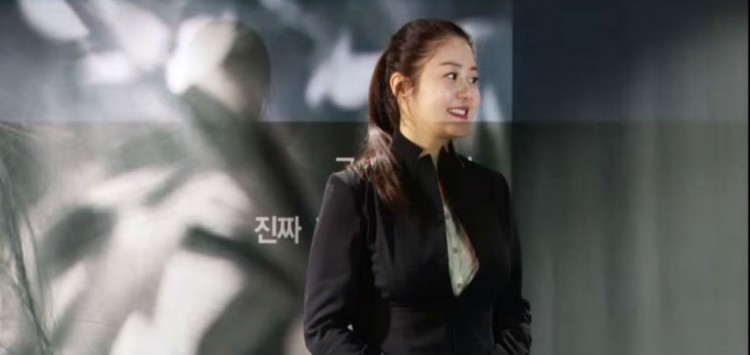 Go Hyun Jung is still surrounded by a lot of controversies about her attitude problems and bad habits. In fact, there is a new photo circulating online showing the 46-year-old actress smoking inside a class.
A poster from Nate Pann revealed that the picture was taken by Hyun Jung's student when she was still a professor in Dongguk University's theater department, All Kpop reported. It also said that the Queen Seondeok star was often late and even smoked during class, even though she was giving a lecture.
The site told its readers that they are the ones who could judge Hyun Jung's habit after they see her smoking photograph. It even added that she did not use smoking to teach acting, but just smoked at least 10 times every class.
A parent even called the university to complain about Hyun Jung's wrongdoing inside the class. However, the school's personnel told the guardian that her smoking habit was something that they had no control of.
Also, the Miss Korea runner-up in 1989 just continued to smoke until the school year was over and did not pay attention to the parent's complaint.
This was not the only bad habit Hyun Jung had showed to the public. To recall, in September 2017, she was believed to be drunk when DJ Park Sun Young of SBS Power FM's Park Sun Young's Cine Town called the actress for a surprise interview.
It seemed like Hyun Jung was not the only one surprised as everyone who had heard the call was shocked to hear Sandglass star silent most of the time and called the DJ by some other names.
Her agency IOK, on the other hand, denied the assumptions and said that she was sleeping when she received the call, thus they caught her off-guarded. "It seems she was quite taken aback as they called her without letting her know beforehand," the agency added.
Fans even supported Hyun Jung as they believed that it was "discourteous" to call someone surprisingly for a live radio show. They even added that it did not matter if the actress was drunk as she was not the one hosting the show and not even driving a car.
The radio show promised to edit the call for the show's replays.
© 2023 Korea Portal, All rights reserved. Do not reproduce without permission.