'The Vampire Diaries' Reunion Teased; Ian Somerhalder, Paul Wesley Share Photo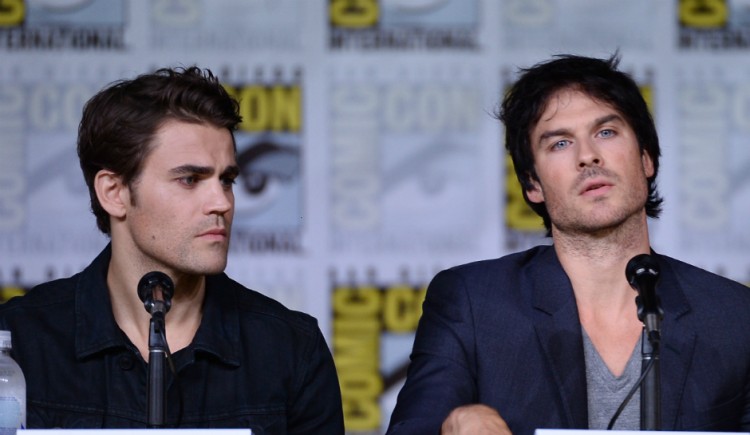 Actors Ian Somerhalder and Paul Wesley brought back the excitement among their fans after a photo of the two together was shared online. The snap sparked rumors of a possible "The Vampire Diaries" reunion as the image was captioned, "reunion."
The Salvatore brothers are back, at least for a convention over the weekend. Somerhalder and Wesley were seen together in "The Vampire Diaries" and "The Originals" official convention in Nashville where they share some of their memorable stories about their show. Wesley posted a photo of him with Somerhalder on his Instagram story. He simply wrote, "Reunion," over the photo.
"The Vampire Diaries" wrapped up almost a year ago after its eighth season. Somerhalder, who played Damon, and Wesley, who portrayed Stefan, work for the first time when they were cast as lead stars of TVD in 2009.
Fans Reaction on Actors' Reunion
Judging from their tweets, avid fans of The CW series are obviously missing their favorite vampire characters. One fan wrote, "Holy crap I can't breathe!!! Damon!!! Stefan!!! Ian!!! Paul!!! Why you are doing this to me!?!!? Help I'm dying!!! My poor heart aches!!!!
Although fans are eager to see the brothers back on screen, they will have to be contented on some casual cast reunion for now. In December 2017, Wesley and Nina Dobrev, who played Elena on the show, also had a small reunion.
As for the show's possible return, there is no word from TVD executives or The CW if there is such a plan. It would be tricky to pull a comeback anyway considering how the series concluded. When TVD ended in March 2017, the stories of the main characters were pretty much done. Damon and Stefan were even seen at peace in the afterlife.
Fans are still hoping though to see the Salvatore brothers appear at least in the show's spinoff, "The Originals." However, even that possibility is unlikely. "The Originals" is about to wrap its fifth and final season this year and there is still no confirmation if Wesley and Somerhalder will reprise their respective roles in the show.
The only good news is that although the spinoff is about to end, "The Vampire Diaries" universe has more stories to tell. Another spin-off that is set around one of The Original characters is underway and its pilot episode is expected to start filming later this year.
© 2020 Korea Portal, All rights reserved. Do not reproduce without permission.