Microsoft Surface Phone Expected To Come With A Surface Pen [VIDEO]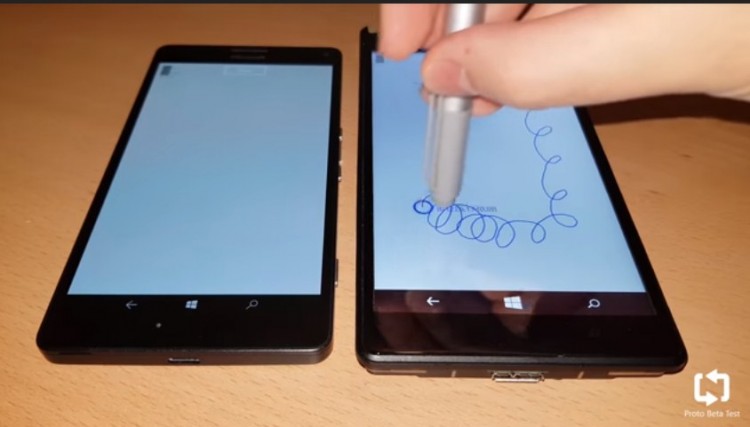 Last month, Microsoft announced its decision to get rid of its Windows Phone, but the rumor mill continues to stir up speculations around the Redmond-based software giant's mythical device, the Surface Phone. If rumors making the rounds on the internet are anything to go by, the purported phone will come bearing its own stylus pen.
The Surface Phone has been subject to a slew of leaks and speculations for about a couple of years now; however, Microsoft refuses to either confirm or debunk rumors hinting at the existence of the hotly-anticipated phone. Although the tech behemoth has already dumped the Windows Phone, smartphone enthusiasts have not stopped hoping to get their hands on the coveted device in near future.
A recently leaked prototype found its way on to Proto Beta Test website, showing the device's stylus pen a.k.a. Surface Pen in action. For those unaware, the pen is offered as an accessory to the Surface Pro and an array of other Surface-branded products. The rumor made an appearance after a leaked image of the early prototype of the phone surfaced online.
The Surface Phone has been subject to a slew of leaks and rumors. According to tech gurus, the device will come bearing its own Surface Pen. The accessory has been often mentioned since rumors about an alleged Surface Phone started surfacing online about two years ago.
Aside from strongly hinting at the inclusion of the Surface Pen, earlier reports have also indicated that the Surface Phone will be foldable and sport dual displays. But much to the chagrin of those clamoring for the Surface Phone, WindowsLatest claims the foldable device Microsoft is allegedly working on is not the Surface Phone. In fact, the report suggests the foldable device is not even a phone.
The aforesaid foldable device is Andromeda, which is slated to be introduced in a brand new category of mobile devices. This speculation aligns perfectly with what Microsoft's chief executive Satya Nadella told Australian Finacial Review back in November 2016.
Nadella noted that Microsoft has not abandoned the smartphone market, and it will come out with a device that does not bear any sort of resemblance to current generation smartphones in near future. The company will continue to be in the phone market but not as specified by the existing market leaders, but by what the company can uniquely do in what Nadella deemed as the most ultimate mobile device.
© 2019 Korea Portal, All rights reserved. Do not reproduce without permission.