Young South Koreans Fall Victims to Eating Disorders As Social Pressure to Look Skinny Forces Them To Start Dieting Early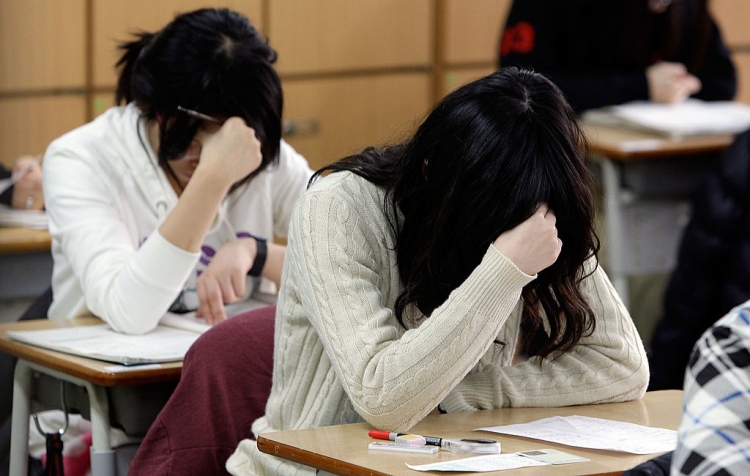 In South Korea where strict beauty standards are overwhelming, the pressure to look skinny is urging people to start dieting at an early age. In the annual "Health at a Glance" report by the Organization for Cooperation and Development (OECD) it was found that Korean boys were more likely to become obese than girls.
26.4 percent of Korean boys aged five to 17 were categorized as either overweight or obese in 2013, which is twice the number for girls which is only 14.1 percent.
According to Korea Biz Wire Tuesday the average for childhood obesity among 33 member states of the OECD is only 24.3 percent for boys and 22.1 percent for girls.
While majority of European countries showed small countries, the report showed that only Poland has a disparity in childhood rates that is higher than Korea's.
Chosun Ilbo reported Thursday a study conducted by the Korean Centers for Diseases Control and Prevention found that 45.1 percent of teenage girls and 23.1 percent of boys are undergoing diets. 18.8 percent of girls have bought over-the-counter weight-loss pills and laxatives, and resorting to extreme measures such as vomiting and starvation to stay skinny.
Many girls are following diet fads reportedly used by girl band members, a routine that has them eating extremely low amounts of calories.
"Young girls who need plenty of nutrition for bone growth could end up ruining their health permanently with extreme dieting," said Dr. Oh Sang Woo at Dongguk University's Ilsan Hospital.
As a consequence of early dieting, a 2010 study by the Korea Food and Drug Administration found that out of 5,000 teens, 15 percent of girls and 10 percent of boys were suffering eating disorders.
Professor Kang Jae Hun, a doctor of family medicine at Inje University Seoul Paik Hospital, blames this health crisis on the social pressure to stay skinny.
"In Korea, if a boy is fat, people say that he looks like someone in a high position. However, when a girl is fat, people wonder about how she is going to find a husband," said Professor Kang.
Professor Kang said the influence of mass media and the K-Pop phenomenon is also a culprit.
"There are so many idols and celebrities that seem to be too skinny on TV, and children try to be like them. It is a global phenomenon, but it seems like Koreans are into looks way too much."
© 2023 Korea Portal, All rights reserved. Do not reproduce without permission.