BLK Drops Thrilling Teaser Video for 'Hero' MV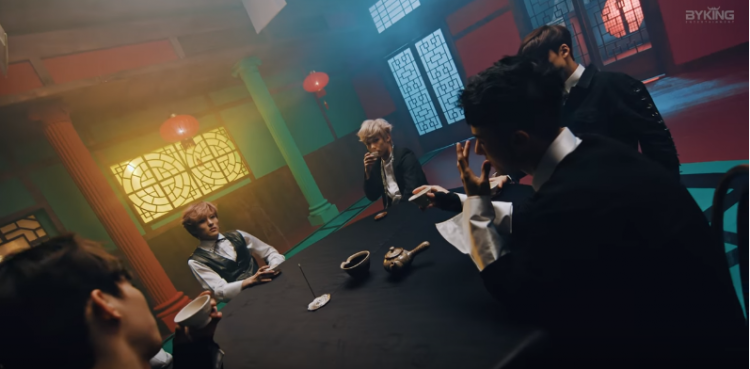 BYKING Entertainment's new boy group, BLK (also known as Beyond Limit Key) dropped their thrilling hip video for their new track "Hero". To pump the excitement, a promotional photo for their first mini album, "Into Black Part 1", was also released featuring one of the boys, D.A.
BLK shared their 35-second teaser video filled with machine gun beats and thrilling clips. According to All Kpop, the boys' music video for "Hero" illustrated a refreshing concept featuring sakura petals, katana swords, edgy dance steps, and ninja stars.
D.A. from BLK mesmerized their fans with his elegant and striking photo as a new promotional material for their album. Sporting his fading dark salmon hair, the performer dramatically poses while showing off his sharp jawline. Check out BLK's tweet below regarding the new D.A. poster:
[Photo Teaser] BLK(비엘케이) D.A
BLK 1st Mini Album [INTO BLK PART1. I]
Release Date: 2017. 11. 28 PM12:00#BLK #비엘케이 #HERO #TEASER #1ST #MINI_ALBUM#D_A #TAEBIN #SORIM #ILKYUNG #I #INNO #BYKING_ENT pic.twitter.com/9j1Z2lI2Za

— BLK INTERNATIONAL (@BLK_INTL) November 21, 2017
Even though the music video teaser for BLK's "Hero" lasted for 35 seconds, the thrilling beats and acrobatic moves featured gave an overall mysterious and dark vibe to the video. Every snap looks well calculated and the boys executed the steps gracefully.
BLK's "Hero" music video teaser generated positive comments on YouTube. Fans showed their support and enthusiasm in the boy group's debut. The full music video of BLK's "Hero" will drop on November 28 at 12 PM KST.
All Kpop described BLK as an acrobatic boy group because of their aesthetic, powerful, and tricky dance moves. BLK unveiled the tracklist for their mini album "Into BLK Part 1". The album consists of 5 songs including "INTO BLK", "Hero", "SO HIGH", "Kiss Me Babe", and "At 12 O'Clock".
© 2018 Korea Portal, All rights reserved. Do not reproduce without permission.