US Destroyer USS Benfold Wrecked: Japanese Tugboat Lost Control Smashing The Warship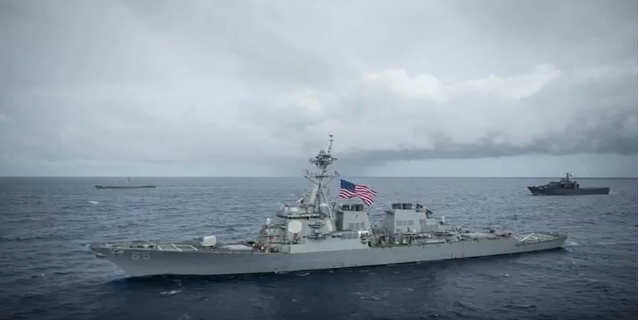 The American warship USS Benfold was wrecked while doing a drill off the Japan coast. The Japanese tugboat has lost its propulsion and slowly went straight to the guided-missile destroyer.
The incident happened on Saturday along Sagami Bay in Japan while USS Benfold participated in the organized towing exercise. According to the Japanese coastguard, the rope got tangled in the tugboat's propeller resulting in the loss of control.
Both the US and Japan forces joined the 10-day joint naval drill that will last until November 26. The joint practice is to demonstrate their forces addressing North Korea with its nuclear enthusiasms which tyrannized US President Trump's latest visit to Asia, The Guardian reports.
A released statement from the U.S. 7th Fleet on Saturday said, "No-one was injured on either vessel and Benfold sustained minimal damage, including scrapes on its side, pending a full damage assessment."
The US Navy added that the USS Benfold is still at sea while the Japanese commercial tug has been towed by another vessel in a Yokosuka dock. At the same time, the accident will be probed pertaining to the Kanagawa Prefecture which is the fleet's headquarters, based on a report from Japan Times.
In regards to the several mishaps occurring at sea, the US Navy declared a string of reforms this November intended for the restoration of basic naval skills and sea alertness. The announcement primarily addresses the different fatal ship encounter in the Asia-Pacific region whereby sailors are discovered to be overworked as well as undertrained.
To date, the US Naval 7th Fleet is connected with two destructive sea collisions this year. In June, an accident occurred between the USS Fitzgerald and a cargo ship that took place in Japan just near its headquarters. Two months after the incident, the USS John S. McCain smashed with a tanker off the coast of Singapore that left 10 sailors dead and injured five.
© 2018 Korea Portal, All rights reserved. Do not reproduce without permission.