'Stranger Things' 2: Nancy-Steve-Jonathan Love Triangle Gets More Complicated With A New Boy In Town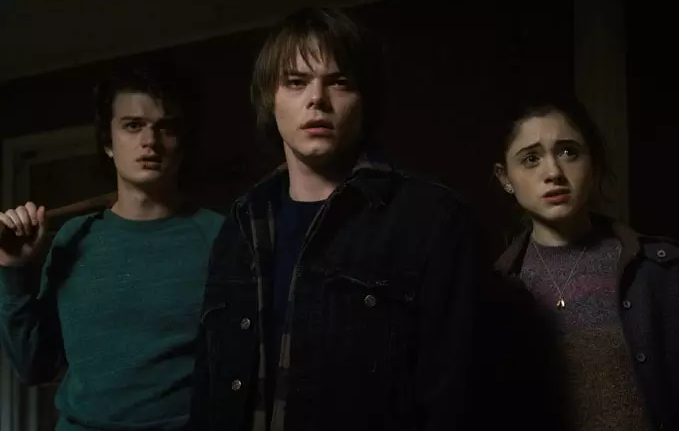 If there's one thing fans should look out for in Season 2 of the hit Netflix series "Stranger Things," it's the love triangle between Nancy (Natalia Dyer), Steve (Joe Keery), and Jonathan (Charlie Heaton). According to the actors, expect the dynamics between the three to get more complicated.
But when prodded for more details, Dyers refused to spoil anything to Bustle. She said, "You'll definitely see it. And you'll see how everyone is dealing with what happened in Season 1 and how it affects their relationships. You'll see how they're coping with things and how all of that is coming to the surface. It makes everything tumultuous and reactive."
At least one fan at Complex speculated that Steve really didn't win Nancy over in Season 1. Despite the fact, Nancy and Jonathan clearly bonded over Will's (Noah Schnapp) predicament and the monster from the Upside Down threatening their existence in the real world, it was shocking to see her celebrating Christmas with Steve in the finale.
But shows newcomer Dacre Montgomery to blame? Montgomery will be playing Bill, a mysterious character. When asked about Season 2 spoilers, he said, "There are notes of Midsummer Night's Dream there, the most famous love triangle."
Montgomery, who also played a Power Ranger, also shared this interesting tidbit to ScreenRant. According to him, Billy will be an antagonist in the show, and even referred him to Jack Nicholson's crazy character in 'The Shining.' He believes Billy's unpredictable nature will not only unnerve the people around him but also the audience as well. He also said Billy will definitely be ruffling a few feathers. Would that be the Nancy-Steve-Jonathan love triangle, perhaps?
But if there's one person who is rooting for Nancy and Steve, it's Millie Bobby Brown, who plays the powerful Eleven in the series. At last year's New York Comic Con, Brown said Nancy and Jonathan would be an awkward pairing, especially if Barb came back to life. "Stranger Things" Season 2 will debut Friday, October 27, on Netflix.
© 2023 Korea Portal, All rights reserved. Do not reproduce without permission.