'Boruto' Episode 30 Spoilers: Sarada Uses the Sharingan to Copy the Lightning Jutsu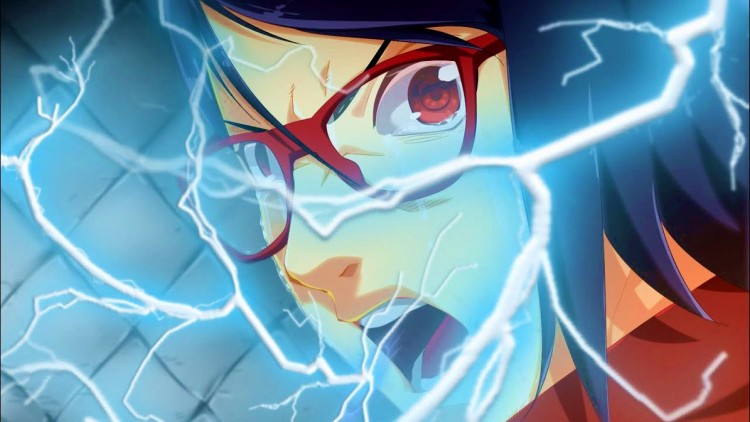 "Boruto: Naruto Next Generations" is still in the Hidden Mist Village arc, which is getting more serious and dark as the story continues. Shizuma has revived the Seven Swordsmen of the Mist with the aim of fomenting a violent revolution. Boruto and Sarada will end up facing the Swordsmen in separate battles. "Boruto" episode 30 spoilers coming up.
"Boruto" episode 30, "Sharingan vs. Lighting Sword: Kiba" is airing tonight. As the title suggests, it will feature a duel between Sarada and the fighter using the lightning sword Kiba. Before that happens, she and Boruto receive help from Chojuro in tracking down Shizuma's location.
According to the "Boruto" episode 30 spoilers, as they get closer to the Swordsmen, Shizuma uses his "Purple Mist" jutsu to cloud the area, making it difficult to see what's going on. Sarada gets separated from Boruto and encounters a female ninja named Buntan Kurosuki, who happens to be the wielder of the lightning sword.
Hero's Facts suggests that this confrontation will lead Sarada to fully develop her Sharingan ability. In facing her opponent Buntan, she will perfect the use of the Sharingan, which she needs to do to defeat her enemy.
It's an optimistic prediction, but it makes a lot of sense. "Boruto" episode 30 is clearly going to be a spotlight episode for Sarada, and her "Sharingan" is highlighted in the episode's title. It's not inconceivable that the episode will show Sarada making an advancement in her path as a ninja.
There are already spoilers online that basically confirm this prediction. Several scenes of the Sarada-Buntan duel have even surfaced. Serious "Boruto" episode 30 spoilers will be revealed below, so stop right here if you don't want to learn more.
A video with the leaked scenes shows the power of Buntan in using Kiba. She can perform several types of lightning attacks, including the creation of lightning sharks that can physically strike Sarada.
But Sarada holds her own against Buntan by using the Sharingan. She is able to save herself using a jutsu copied from Boruto. Then she copies Buntan's lightning jutsu. Here's the spoiler from Twitter:
My Princess can copy jutsu! #BORUTO #Naruto #Sarada pic.twitter.com/tUzzPQupfh

— SasuSakuサスサク Updates (@SasuSakuID) October 25, 2017
© 2023 Korea Portal, All rights reserved. Do not reproduce without permission.