Bolbbalgan4's 'Galaxy' Is the Most Streamed Song in Gaon Music Chart History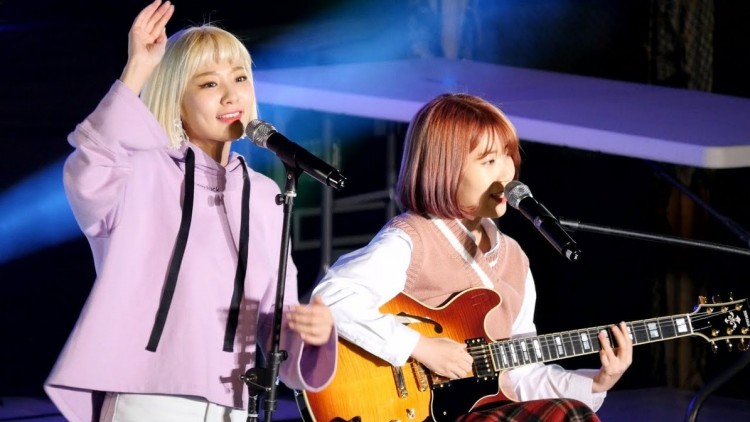 Bolbbalgan4's track "Galaxy" has become the most streamed song in Gaon Music Chart history. It has managed to unseat the seasonal favorite "Cherry Blossom Ending" by Busker Busker.
One Hallyu reports that as of October 7, "Galaxy" has reached a total of 156,128,415 cumulative streams, beating out "Cherry Blossom Ending" with 154,007,382 streams on week 40 of the 2017 Gaon Music Chart. A look at the Gaon website shows that "Galaxy" actually passed the Busker Busker song on week 39 and has improved on its lead.
"Cherry Blossom Ending" is a very popular springtime track in Korea, where the seasonal song is part of the culture. Certain songs tend to get played every year during a particular season, similar to how Christmas songs come back into the rotation around December each year.
Bolbbalgan4's "Galaxy (우주를 줄게)" is not a seasonal track. It came out on August 28, 2016, on the duo's first studio album, "Red Planet."
That means that it took it about a year to rise to the top of the streaming chart. Since it is a newcomer, it is possible that "Galaxy" will eventually fall behind "Cherry Blossom Ending" again as it wanes in popularity. It will be interesting to see how "Galaxy" fares around springtime next year.
For now, it is wonderful news for Bolbbalgan4, which has been having a great year. Last month, the Shofar Music duo released the mini album "Red Diary Page. 1" containing the title track "Some." Soompi reports that on October 2, Bolbbalgan4 achieved a Perfect All-Kill with "Some" getting to number one on the iChart real-time chart and on the daily and real-time charts of Korea's six major music sites: Bugs, Genie, Melon, Mnet, Naver, and Soribada.
In fact, all of the tracks on "Red Diary Page. 1" charted well on the real-time charts, with "To My Youth" reaching No. 2 and "Blue" reaching No. 3 on all six. "Fix Me" and "Imagine" also entered into the top ten of the six charts.
© 2023 Korea Portal, All rights reserved. Do not reproduce without permission.