Lee Kwang Soo Admits Drunk Dialing Apink's Bomi on the Next 'Running Man'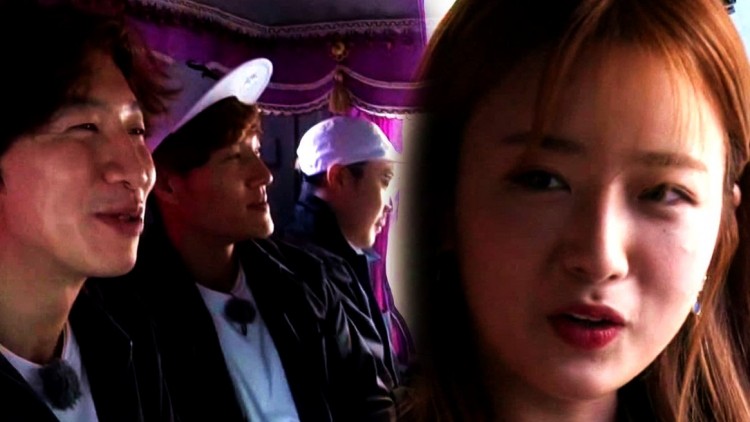 The upcoming episode of "Running Man" will feature an embarrassing revelation about Lee Kwang Soo. The guests will be actor Shin Sung Rok and Apink member Bomi--it's the latter who drops the bombshell about the unlucky MC.
The episode will feature a race to determine who will be sent with Lee Kwang Soo to the Cage of Death. That's the punishment trip's key experience-a scary dip into a pool of crocodiles at a wildlife park in Australia.
Bomi looks so small and cute!!! Omg she's so short hehe @Apink_2011 @Apinkbm @Apinkpcr #bomi #runningman pic.twitter.com/ZySTyTaicV

— Deanna (@sungyeol156gma1) October 13, 2017
A teaser photo for Sunday's episode shows Bomi standing next to Lee Kwang Soo. The pair got into a love line on a previous episode of "Running Man" that aired in April.
In that episode, the two of them were in a bus along with Haha and Kim Jong Kook. KstarLive notes that Bomi and Lee Kwang Soo were sitting next to each other. Kim Jong Kook impishly asked the Apink singer what she thought about Lee Kwang Soo. She described him as "handsome" and Kim Jong Kook kidded that he hoped the two would hook up.
Then Haha and Kim Jong Kook got Bomi to hold hands with Lee Kwang Soo, which she did for a while. After she let go, Lee Kwang Soo was seen caressing his right hand (which Bomi had held) and then he pressed his face into his hand. It was all in good fun and Bomi seemed game for the love line antics.
But Soompi reports that in the new episode, the "Running Man" series regulars see that Bomi is feeling awkward around Lee Kwang Soo during the shoot. They ask her what's going on, and she says, "After filming last time Lee Kwang Soo video called me after drinking and it was actually a little uncomfortable."
Lee Kwang Soo gets defensive and protests he was only treating Bomi the same way he treats Apink's Eunji, with whom he is close. He said that he had nothing indecent in mind. This excuse doesn't stop the team from wondering about his feelings toward Bomi, and of course, they tease him endlessly about it.
© 2023 Korea Portal, All rights reserved. Do not reproduce without permission.