TWICE Joins Fifth Harmony, Destiny's Child In Billboard's 'Coolest Dressed Girl Group' List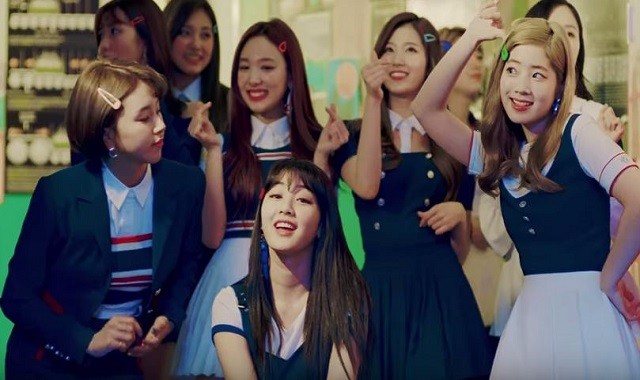 TWICE recently achieved an impressive milestone with the Kpop band landing a spot on Billboard's list of stylish girl groups alongside famous Hollywood artists such as Destiny's Child and Fifth Harmony. Aside from the said K-pop girl group, Girl's Generation and 2NE1 also ranked on Billboard's fashion chart.
Three Kpop groups made it to Billboard's "Coolest Coordinated Girl Group Outfits" chart, a 40-slot list that ranked the best fashion stylings by female bands from the 1960s until the early part of 2017, With TWICE's red checkered "punk-meets-cheerleader" outfit worn during a stage performance in late 2015, the said girl group landed at third place with Destiny's Child and Fifth Harmony at first and second place, respectively, according to Billboard.
TWICE was the only K-pop girl group who nabbed a spot on the said chart's Top 5. Girl's Generation came in at sixth place with Billboard highlighting the group's stage outfits worn during the 2015 Kpop Festival performance. Held in New Jersey, the said South Korean band donned white shorts matched with a white-collared top over a U.S. flag inspired shirt.
Girl's Generation and TWICE may have ranked on the said Billboard list's Top 10, however, 2NE1 landed at the bottom five of the "Coolest Coordinated Girl Group Outfits" chart. The now disbanded K-pop girl group nabbed the 35th spot given their coordinated look at the MCM Fall/Winter 2010 Collection fashion show. Held in Seoul on November 2010, the four singers each wore colorful polka-dot tops with oversized shoulder pads over an all-black ensemble.
Aside from TWICE, Girl's Generation, 2NE1, Destiny's Child and Fifth Harmony, other girl groups that made it to the list included the 1990's trio TLC, Little Mix, Spice Girls, Pussycat Dolls and more. Iconic groups from the 1960's also ranked on the said Billboard chart such as the Ronettes and the Supremes.
Meanwhile, TWICE landed two spots on YouTube's Top 10 list of most viewed K-pop music videos. For the first half of 2017, the K-pop girl group's "Knock Knock" clip landed at first place while the band's music video for the track "Signal" came in at number six, Soompi reported.
TWICE released "Knock Knock" and "Signal" in February and May, respectively. Watch the music clip for "Knock Knock" below:
© 2018 Korea Portal, All rights reserved. Do not reproduce without permission.