SEVENTEEN's Hoshi Says Pledis Entertainment's Business Is Booming
by
Ella
/ Jun 19, 2017 11:14 AM EDT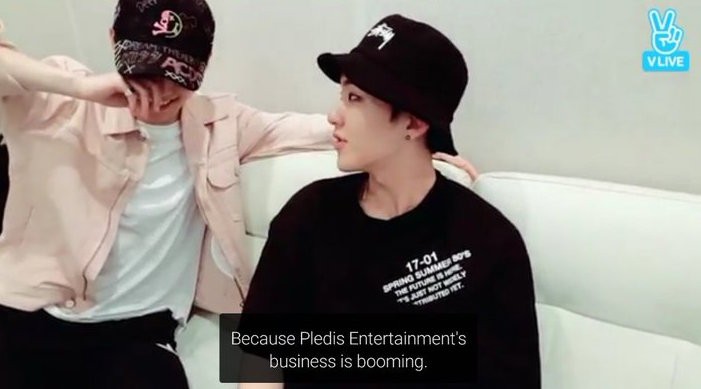 SEVENTEEN's Hoshi held a birthday V Live broadcast on June 15 where he briefly mentioned that SEVENTEEN's agency, Pledis Entertainment is booming. In the V Live, Hoshi is seen in a non-descript white studio sitting on a white couch. Hoshi said, "We came to our practice room. We have a much bigger practice room now. Because Pledis Entertainment's business is booming." He went on to claim, "The business is doing well."
After Hoshi's statement, fans discovered that Pledis Entertainment has posted dozens of job openings. Currently, Pledis is hiring new employees for marketing, video team, and such. The required experience for the positions ranges from entry level to 3 years of previous experience. Fans of SEVENTEEN then confirmed that Pledis Entertainment's business might really be booming.
It's been previously talked about that Pledis Entertainment was on the brink of bankruptcy before debuting SEVENTEEN in 2015. Netizens note that because of SEVENTEEN's success, Pledis was able to save their sinking business. "SEVENTEEN is their last salvation," netizens commented. Fans saw evidence of the agency's nonexistent budget when SEVENTEEN debuted - in their low-quality music video, their lack of in-ear monitors, among many others. Now that SEVENTEEN has sold record-breaking album sales and holding sold-out concerts, it is clear that Pledis' business is out of danger.
Now that Pledis is hiring, even more, employees, fans believe that their business has improved over the last 2 years. Netizens claim that Pledis also did a mass hiring last year before SEVENTEEN came back with 'Pretty U', and are now speculating that NU'EST will make a comeback this time around. NU'EST's popularity rose after 'Produce 101 Season 2', with the 5-year-old group's old songs skyrocketing to the top of Korean music charts after the finale. NU'EST, who has never gotten their first music show win, entered Melon's top artist chart for the first time since they debuted. Netizens say that since Pledis Entertainment is doing well financially, they should focus on bringing NU'EST back as soon as possible, while their popularity is gaining.
© 2023 Korea Portal, All rights reserved. Do not reproduce without permission.