Big Bang's G-Dragon Releases USB Drive For New Album 'Kwon Ji Yong'
by
Ella
/ Jun 09, 2017 02:39 AM EDT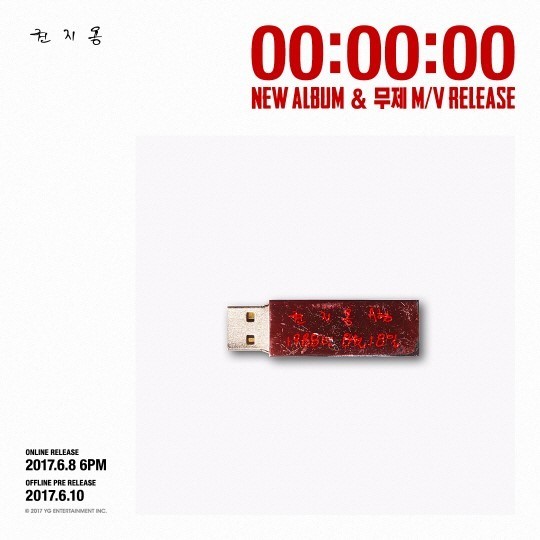 Big Bang leader G-Dragon is staying true to his creative and unique persona. The rapper released his latest album 'Kwon Ji Yong' on Thursday, June 8 in the form of a USB drive. Instead of the usual, traditional CD album, the rapper opted to go against the norm and released his tracks in a USB flash drive.
Big Bang's agency, YG Entertainment, posted a poster image of a sample of G-Dragon's album in the form of a red USB drive with G-Dragon's profile imprinted on it. His real name 'Kwon Ji Yong' was written on the USB drive along with the singer/rapper's date of birth. YG Entertainment said of the unique album format, "Since it's not a typical form of an album, it was hard to work things out. G-Dragon, however, is a person who always tries to do something new. So we are putting in our best effort to make things possible." The agency added, "Alongside digital copies, G-Dragon is selling the album in a USB format. Customarily CDs are produced for sales of physical copies but we opted for a differentiating strategy."
G-Dragon dropped his latest album 'Kwon Ji Yong' at 6 pm KST on June 8, with the title track initially named 'Bulls***'. However, G-Dragon decided last minute to change the title to avoid controversy and flak. YG Entertainment stated that the provocative title was changed to 'Untitled' when earlier this month, they announced that it would title 'Bulls***'. Though YG Entertainment avoided explaining the reason behind the last-minute change, netizens speculate that G-Dragon might have decided to switch in light of his fellow Big Bang member T.O.P's recent marijuana and overdose controversy.
'Untitled' is a slow-tempo track that talks about longing for a past love after a break-up. 'Kwon Ji Yong' is said to be a sort of biography of G-Dragon, hence, the namesake album title. The rapper wrote songs with lyrics detailing his personal struggles as he entered his 30's, providing different aspects of his character and life.
© 2022 Korea Portal, All rights reserved. Do not reproduce without permission.