Park Shin Hye Shows Some Love To FTISLAND's Lee Hong Ki, Are The Two Together?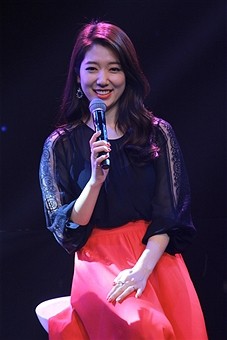 Park Shin Hye and FTISLAND's Lee Hong Ki's friendship are getting stronger as they showed their support for each other publicly. Just recently, the former showed some to the latter as she promotes the new music of FTISLAND. Romantically speaking, is there any chance that the two could be together?
According to Soompi, Park Shin Hye posted two screen captures on her Instagram account. One post showed her conversation with Lee Hong Ki while the other one is the proof shot that she is currently listening to the newly-released FTISLAND's title track "Wind".
The conversation posted by Shin Hye revealed that Hong Ki wanted to see some love for the actress, to which she replied "so cute". She then captioned her post admitting that she would definitely support the boy group's new music. In the end, the actress is seemingly happy with the achievements of Lee Hong KI in the entertainment industry. As she wrote:
"In the conversation on the left, Lee Hong Ki mess I will give [your album] lots of love. #Hong star #10 year anniversary #Congrats, buddy #Ask Us Anything #I enjoyed watching your episode."
With Park Shin Hye's recent post, fans are hopeful that the two could bring their friendship to a higher level. Moreover, viewers are admitting that they are seemingly cute together.
Meanwhile, Hello Kpop reported that FTISLAND might enlist in the military service together. In an interview made with the group, Lee Hong Ki admitted that they would want to join the army all at the same time. Song Seung Hyun then shared the same sentiments with the latter but hopes that each member would be assigned to different units.
The interview happened as FTISLAND launched their new album entitled Over 10 Years. The said album, which consists of 13 different tracks, was made to celebrate the group's 10th year in the entertainment industry.
© 2023 Korea Portal, All rights reserved. Do not reproduce without permission.