'Once Upon A Time' Showrunner Teases Emma-Hook Wedding Scene, Hints Dangers Awaiting Storybrooke Savior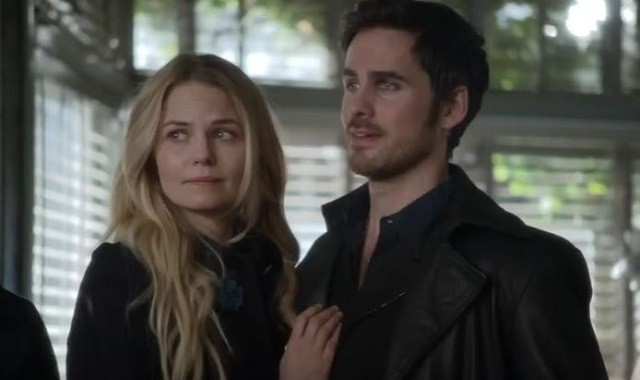 Despite the many challenges that beloved characters will need to face in upcoming "Once Upon A Time" Season 6 episodes, Emma (Jennifer Morrison) and Hook's (Colin O'Donoghue) wedding will be a source of happiness for Storybrooke residents. Recently, the ABC fantasy series' showrunner commented on the dangers that await Emma, as well as her family and friends.
"Once Upon A Time" Season 6 is set to feature the long-awaited nuptials of Emma and Hook in an upcoming musical episode. Titled "The Song in Your Heart," viewers will soon see Emma walking down the aisle to exchange her wedding vows with Hook.
The joyful life event will mark Emma's attempt to continue living her life despite her many challenges as Storybrooke's Savior in "Once Upon A Time" Season 6. In an interview with Entertainment Weekly, showrunner Edward Kitsis commented that the said female protagonist will not allow the threat of her prophesied death ruin her chance at love and happiness. The marriage will also mark a brave moment for Emma as she follows her mother Snow's (Ginnifer Goodwin) advice to live life to the fullest, according to the showrunner.
Meanwhile, the upcoming episodes of "Once Upon A Time" Season 6 will also uncover the truth behind Emma's prophesied death. When Kitsis was asked whether Emma will get to live a long and happy married life with Hook, the showrunner declined to give a definite answer. He teased, "She either dies, or she doesn't die, or something else happens."
Kitsis also mentioned that Emma's impending Final Battle may not be what some viewers would have expected it to be. Despite confirming that the said Storybrooke Savior will be engaged in a battle in an upcoming "Once Upon A Time" Season 6 episode, the showrunner explained that the fight would be different from previous encounters since it will be "very personal to Emma."
In other news, the upcoming "Once Upon A Time" Season 6 episode 18 will show a quick glimpse of Emma and Hook's wedding preparations. Titled "Where Bluebirds Fly," the said episode will also feature Snow and Charming (Josh Dallas) in a heated argument over their daughter's wedding plans, according to spoiler news posted on Spoilers Guide.
"Once Upon A Time" Season 6 airs every Saturday on ABC. Watch the teaser clip for the upcoming episode below:
© 2018 Korea Portal, All rights reserved. Do not reproduce without permission.