'One Piece' Creator Designed A New Character For Upcoming Live Event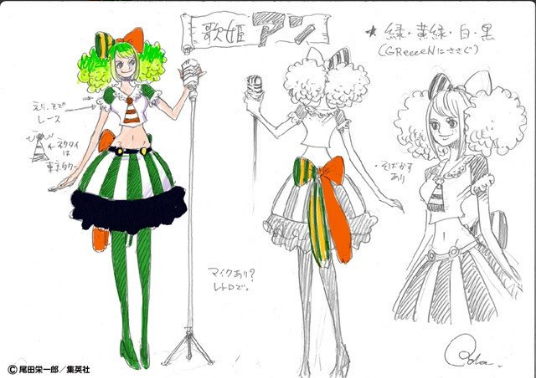 Renowned "One Piece" creator Eiichiro Oda has recently introduced a new character to his ever expanding pirate lore. Rough colored sketches of the latest addition have been making rounds online and will soon be seen in the third installment of the anime's Live Attraction.
As mentioned, Oda designed a new character for the upcoming event that is likely to perform some of the songs within the show. The mangaka baptized the latest addition as Diva Anne/Utahime Anne and she is all set to grace "One Piece's" live event that is held at the Tokyo One Piece Tower theme park, Otaku USA reported.
Per the recently released sketches, Diva is a green-haired lass who sports a hang top blouse and a green striped skirt. Moreover, it may well seem that the new character is well adept in performing on stage as she was also depicted donning a mic stand. Diva will be a "One Piece" Live Attraction exclusive and it is still uncertain if the character will be ported in the main canon of the franchise.
"One Piece's" next Live Attraction show - "Phantom," will be the production's third offering to visitors of the indoor park. The first installment of the show dubbed "Welcome to TONGARI Mystery Tour" kicked off in March of 2015 and has been shown over 2,000 times during its over a year run. The sophomore installment of the show, on the other hand, ended its year-long run on April 9 while the aforementioned third act is soon to follow this April 29, Crunchyroll has learned.
A teaser clip for the upcoming show was even rolled out a couple of days ago and has hinted of another character that will be part of the live act. If the silhouette is anything to go by, it looks like Portgas D. Ace will be part of the "Phantom" live act. Check out the mentioned "One Piece" Live Attraction clip here:
© 2018 Korea Portal, All rights reserved. Do not reproduce without permission.