South Korea Society: Smartphone Addiction Reaches 'Serious Levels' Among Young South Korean Women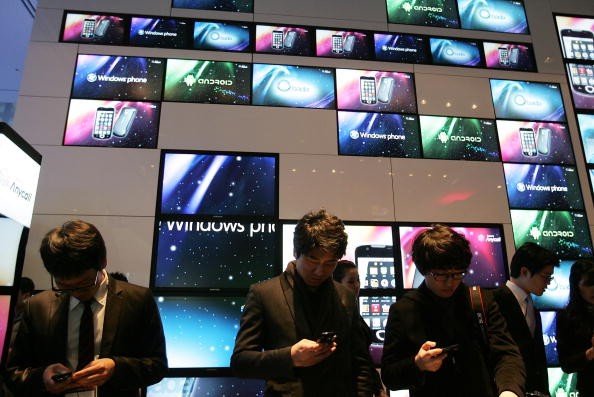 For young women in South Korea, obsession with mobile devices, including smartphones, has reached "serious levels". In particular, government data has placed emphasis on single females becoming more prone to smartphone addiction.
After checking 5,012 adults aged 18 years and older between July and December 2016 in South Korea, the Ministry of Health and Welfare found that 24.5 percent of women aged 18 to 29 years old exhibited symptoms of a clinical disorder associated with smartphone use. The smartphone addiction disorder is also linked to withdrawal symptoms physically and mentally exhibited by an individual if he or she is not able to have access to the smartphone.
The state findings also pointed to males in the same age group having a smartphone addiction rate of 12 percent. According to the ministry, females in South Korean who were in their 30's and 40's all exhibited higher rates of smartphone addiction compared with men in this age group.
More specifically, the majority of women addicted to mobile devices were single and attained tertiary education through college or university. On the other hand, females in South Korea who were married and reached up to secondary education were less likely to experience smartphone addiction. Compared to male counterparts, the findings showed that women tend to depend more on the Internet and had difficulties in taking a break from online activities. When it comes to gaming, men were found to have higher active involvement. Five percent of males under the age of 29 were found to be addicted to online games, although the percentage of women was only slightly lower at 4.1 percent.
In addressing the concerns of smartphone addiction in South Korea, the government has been taking on various attempts, such as the creation of educational programs at school and the release of counseling guidelines appropriate for students who are at risk of smartphone addiction. Last year, the South Korea's Metropolitan Government also took preventive measures to send out a caution to their citizens about being aware of their surroundings while using their devices, as reported by Mashable Asia. Traffic signs, such as "Warning: Using Smartphone While Walking" aimed to warn pedestrians about the risks of getting hit by a vehicle while using a mobile device while crossing the street.
© 2023 Korea Portal, All rights reserved. Do not reproduce without permission.