Taecyeon Praised By Kim Yoon Jin As The Perfect Man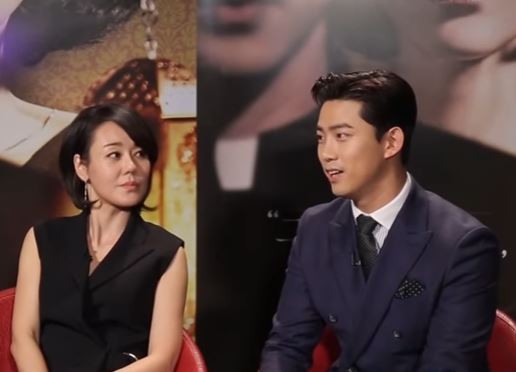 Singer-actor Taecyeon is described as "the perfect man" by actress Kim Yoon Jin. The two stars worked together and developed a close friendship in their horror film "House Above Time." The 2PM member also revealed he accepted the film offer because of the actress.
Taecyeon and Kim Yoon Jin couldn't help but praise each other when they appeared Wednesday at the press conference for their horror film "House Above Time." The actress showed she's been swept off her feet by her young co-star. She described the 28-year-old singing idol as "someone who is liked by everyone" and listed his best traits as being "funny, considerate and very caring" even adding that "he even has an adorable side to him."
"Is there anyone in this world who doesn't like him?" Soompi quoted Kim Yoon Jin as saying. She then warned ladies to "watch out" when she said, "He is the perfect man, and that's dangerous. The 43-year-old actress then revealed that Taecyeon played a big role in the film so she invited his fans to watch it and hoped that they would exceed 1 million viewers.
Taecyeon, on the other hand, claimed to be a fan of Kim Yoon Jin when he shared that he accepted the role primarily because of her. He also credited his co-star for her acting tips. The singing idol sat down in a recent interview with Naver's "V Live" where he talked more about his filming experience.
According to allkpop, Taecyeon shared the actual house they filmed in was built around 1930-40s and that "it was difficult to film because of the height of the ceiling and also the lack of leg room." He revealed that he accidentally banged his head so hard during a scene where he had to walk out the door. Also known as "House of the Disappeared," his co-star Kim Yoon Jin plays the lead role of a housewife who returns to the old house after 25 years.
© 2023 Korea Portal, All rights reserved. Do not reproduce without permission.