'Once Upon A Time' Season 6 Spoilers: Hook Regrets Emma Engagement? Colin O'Donoghue Talks Proposal Scene, Secret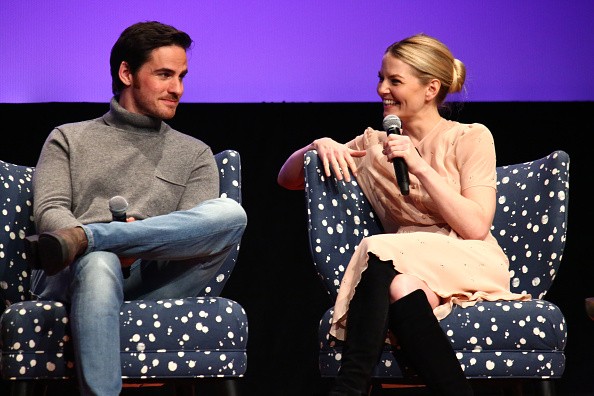 Avid fans of the ABC fantasy series "Once Upon A Time" Season 6 recently witnessed a happy scene as Hook (Colin O'Donoghue) and Emma (Jennifer Morrison) took a step forward in their relationship to become an engaged couple. However, the circumstances of how the marriage proposal happened will be something that Hook will regret for the rest of his life.
"Once Upon A Time" Season 6 episode 13 featured several exciting and heartbreaking moments as characters deal with Gideon's (Giles Matthey) plan to kill the Storybrooke Savior, as well as the Wish Realm Robin's (Sean Maguire) attempts to break free from Regina (Lana Parrilla). Titled "Ill-Boding Patterns," the said episode also showed a sweet moment between Hook and Emma as the former pirate asked his beloved to marry him.
Despite Hook's intention to take their relationship to a deeper level, the marriage proposal that happened in the said "Once Upon A Time" Season 6 episode was not what he had in mind. In an interview with Entertainment Weekly, Colin O'Donoghue shared that Emma placed Hook in a "terrible position" when she found the engagement ring and confronted him about it. At the said moment, the former pirate was planning to reveal that he killed Emma's grandfather in the past.
Given Emma's enthusiastic welcome when Hook arrived home in the said "Once Upon A Time" Season 6 episode, he made the "wrong decision" to propose instead of unveiling his secret, according to Colin O'Donoghue. The actor added, "He regrets [it] .... he doesn't regret the fact that they're engaged, he regrets the circumstances and what went on behind it."
At this point, it is still unclear whether Hook and Emma's relationship will suffer in "Once Upon a Time" Season 6, once the former pirate's secret is revealed. Viewers can expect to see tense moments between the newly engaged couple in upcoming episodes of the ABC show.
In other news, Rebecca Mader shared in an earlier interview with TVLine that an upcoming episode of "Once Upon A Time" Season 6 will be inspired by "Wizard of Oz." Some of the said story's iconic characters such as the Tin Man (Alex Desert) will be making an appearance in the said episode, according to the actress.
"Once Upon A Time" Season 6 airs every Sunday on ABC. Watch a clip of Hook's marriage proposal below:
© 2018 Korea Portal, All rights reserved. Do not reproduce without permission.