'Grimm' Season 6 Episode 11 Spoilers, Live Stream: Eve's Mirror Journey Goes Awry, Nick Torn Between Juliette, Adalind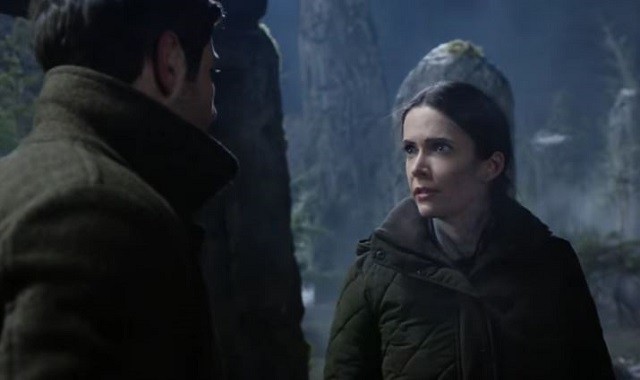 Learning to let go will be something that some of the NBC series' beloved characters will need to do in the upcoming "Grimm" Season 6 episode 11. Eve (Bitsie Tulloch) and Nick's (David Giuntoli) visit to the mysterious world inside the mirror will feature encounters with scary looking creatures, including a moment that will force the two protagonists to look back at their former lives together.
Watch the upcoming episode online through live stream, here. The upcoming "Grimm" Season 6 episode 11 will mark an emotional journey for Eve and Nick. After the said Hexenbiest decided to enter the mirror portal that leads to the villainous dark force's world in the NBC show's previous episode, Monroe (Silas Weir Mitchell) and Rosalee (Bree Turner) will be the first ones to discover what she has done. With the couple joining forces with Nick and Adalind (Claire Coffee), they will learn of a way to send the said detective after Eve, according to episode spoilers posted on Spoilers Guide.
Titled "Where the Wild Things Were," the upcoming "Grimm" Season 6 episode 11 will have Eve and Nick fighting men with animal-like faces, as well as a deadly encounter with a powerful dark force. Moreover, the duo's sojourn inside the mysterious world will force Nick to realize that Eve is not Juliette despite earlier signs of his former beloved's potential emergence.
Featured in the teaser clip for "Grimm" Season 6 episode 11, also posted on the same news site, Eve will confront Nick about his conflicted feelings and will even remind him that she will never be the same person that she was before. The Hexenbiest will even confess that she has no plans to start a happy life and will indicate that the two of them would be better off apart from each other.
Nick's relationship with Adalind and Eve became complicated after the latter was subjected to the healing stick's powers and she began to exhibit behaviors that were similar to her former self Juliette. In an earlier interview with TV Guide, David Giuntoli shared that Nick will feel torn and will go through a "very difficult emotional thing" given the said situation. However, Eve will dissuade Nick of any notion that Juliette might return in "Grimm" Season 6 episode 11.
"Grimm" Season 6 episode 11 will be released on March 17, Friday, on NBC. Watch a preview clip below:
© 2018 Korea Portal, All rights reserved. Do not reproduce without permission.