'Strong Woman Do Bong Soon' Actors Park Hyung Sik, Ji Soo Surprise Three Students For Special Fan Service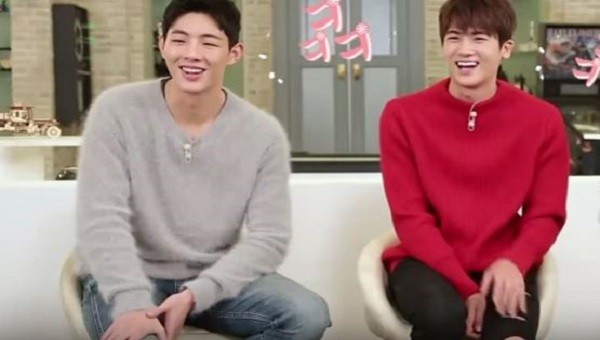 "Strong Woman Do Bong Soon" continues to delight avid viewers given the funny antics of beloved characters and the growing love triangle between the three protagonists. Recently, Park Hyung Sik and Ji Soo visited a local school in Incheon to fulfill a rating promise they made to fans.
Park Hyung Sik and Ji Soo became special bodyguards for three lucky students from Hae Won High School in South Korea's Incheon. The said high-schoolers were chosen from the many "Strong Woman Do Bong Soon" viewers who submitted their stories of the dark and dangerous alleys that they need to pass when going home at night.
Held on March 14, Tuesday, the special "Strong Woman Do Bong Soon" event was also shared through the Naver V Live app, Kpop Herald reported. Park Hyung Sik and Ji Soo even waited outside of the school until the three students finished their late-night classes. Traveling to the students' respective homes inside a rented bus, the two actors held quick interviews with the high-schoolers and gifted them with roses and chocolates.
Park Hyung Sik even experienced an embarrassing moment when two of the three students chose Ji Soo's Gook Doo as their favorite character in "Strong Woman Do Bong Soon." The "Hwarang" actor's distressed reaction even made the three students laugh.
The two high-schoolers explained that Gook Doo's handsomeness was what made them choose the said "Strong Woman Do Bong Soon" character. However, the third student shared that she liked Park Hyung Sik's character Min Hyuk better because of his cheerful attitude and good looks.
Meanwhile, the special fan service represented the cast members promise to accompany viewers who typically go home late at night if the ratings for "Strong Woman Do Bong Soon" reach 3 percent. Given the JTBC series' impressive debut where it surpassed the 3 percent mark to register nationwide viewership shares of 3.8 percent, the drama's cast organized several events to fulfill their promise.
"Strong Woman Do Bong Soon" episode 6 even posted the drama's highest nationwide ratings to-date. Aired on March 10, the series reached a viewership share of 8.7 percent across the South Korean nation, according to Nielsen Korea, as cited by OSEN.
"Strong Woman Do Bong Soon" airs every Friday and Saturday on the JTBC. Watch a clip from episode 6 below:
© 2018 Korea Portal, All rights reserved. Do not reproduce without permission.