Gong Yoo, Lee Dong Wook Relationship: 'Goblin' Stars Confirmed Dating? Song Joong Ki Or Lee Min-ho Might Join In Sequel Installment? [RUMORS]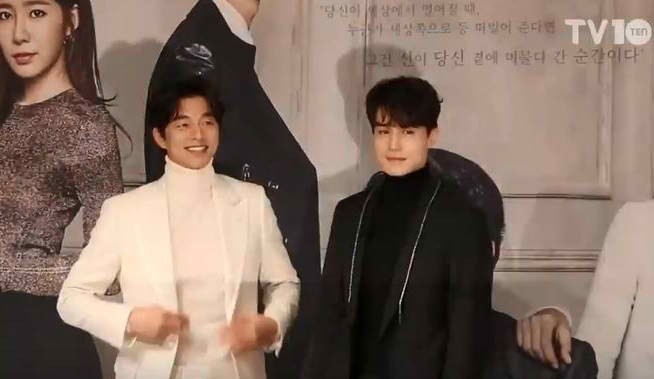 Gong Yoo and Lee Dong Wook are currently considered as two of the hottest South Korean actors alive today. However, new reports are claiming that the "Goblin" stars could possibly be dating in real life.
Soompi reported that that Gong Yoo and Lee Dong Wook have displayed their bromance once again during the latter's "2017 Lee Dong Wook Asia Tour in Seoul 4 My Dear" fan meeting last weekend. Several followers of the "Hotel King" star were shocked when the "Goblin" lead star came out of nowhere.
According to the news outlet, Gong Yoo and Lee Dong Wook have treated fans by reenacting their famous scene in "Goblin" where they have emerged from the darkness together. The "My Girl" actor has even made a poem specially made for the "Train To Busan" star.
Lee Dong Wook has even expressed his gratefulness for having been able to work with an actor like Gong Yoo. "What does Lee Dong Wook mean for Gong Yoo?" the "Golbin" lead star asked to which the "Sight of a Woman" actor has responded with "a grateful savior in my acting life."
As expected, fans of Gong Yoo and Lee Dong Wook have praised them for being so honest with each other. Making the event more special is when the "Wild Romance" has praised his "Goblin" co-star.
"I've never met an actor who can work off my ad-libs as well as Lee Dong Wook can. I'm actually re-watching the series now that we're done filming it. I've watched up to episode six," the "Roomate star has said of Gong Yoo. The younger actor has even described the "Train to Busan" actor as handsome, which sparked dating reports.
Meanwhile, Korea Portal has previously reported that Gong Yoo will be reprising his role in the upcoming "Goblin 2" series. While details of the supposed sequel remain unclear until now, there are speculations claiming that Song Joong Ki or Lee Min-ho might join the "Train To Busan" actor alongside Lee Dong Wook.
Up until now, neither Gong Yoo nor Lee Dong Wook has confirmed if "Goblin 2" is really happening; they also remained tightlipped on the rumors claiming that they are in a secret relationship. Stay tuned to Korea Portal for the latest news and updates about the alleged Gong Yoo and Lee Dong Wook relationship.
© 2018 Korea Portal, All rights reserved. Do not reproduce without permission.