'Grimm' Season 6 Episode 11 Spoilers, Live Stream: Nick Sees Juliette In Eve, Dark Force Threatens Nick's Life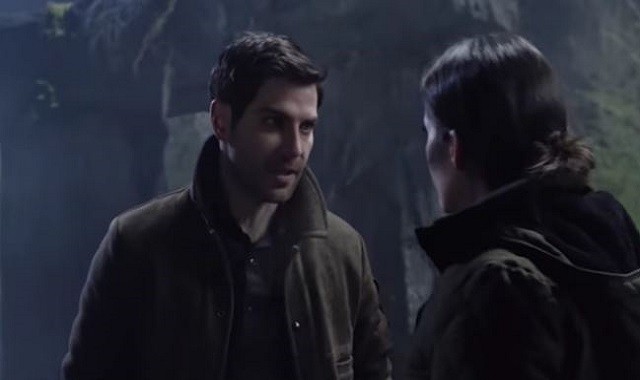 Beloved characters will face a powerful and deadly opponent in the upcoming "Grimm" Season 6 episode 11. Latest spoiler news teased of Nick (David Giuntoli) and Eve's (Bitsie Tulloch) attempt to learn more about the world inside the mysterious void, while a dark force tries to stop them from returning to their friends and loved ones. Watch the upcoming episode online through live stream, here.
"Grimm" Season 6 episode 11 will have Nick and Eve traversing an unknown world inhabited by dangerous creatures and mysterious characters. Titled "Where the Wild Things Were," Nick finds a way to follow Eve into the portal where both protagonists discover massive stone ruins with etchings similar to what they found drawn on the healing stick's cloth.
However, both characters will also encounter the dark force that tried to strangle Eve through a mirror. In the teaser clip for "Grimm" Season 6 episode 11 posted on Spoilers Guide, several scenes showed the former couple meeting the said character with Nick trying to fend off the creature's attacks.
Moreover, another scene in the "Grimm" Season 6 episode 11 clip also featured a tense conversation between Nick and Eve as the former tried to convince the latter that they should remain together so he could protect her. It appears that Nick will continue to see signs of his former love Juliette in Eve. However, the said Hexenbiest will dissuade Nick from thinking that she might be changing, by clarifying that she is not Juliette.
Meanwhile, Nick's friends and Renard (Sasha Roiz) will form an uneasy alliance in "Grimm" Season 6 episode 11. Given the police captain's discovery that the dark force may be after Diana (Hannah R. Loyd), Renard will partner with Nick and the rest of the gang to help keep his daughter safe.
In other news, Nick and Eve's relationship became complicated in "Grimm" Season 6 following the said Hexenbiest's healing stick behavioral changes that hinted at Juliette's return. However, Bitsie Tulloch told TV Guide that Eve will try to prevent any further transformations that will mark the emergence of her former self. The actress added that viewers will be surprised with how Nick, Eve and Adalind's love triangle will be resolved in the upcoming series finale.
"Grimm" Season 6 episode 11 will be released on March 17 on NBC. Watch the teaser clip below:
© 2018 Korea Portal, All rights reserved. Do not reproduce without permission.