The United States Has Started Transporting The THAAD; South Korea To Be Defended Against The North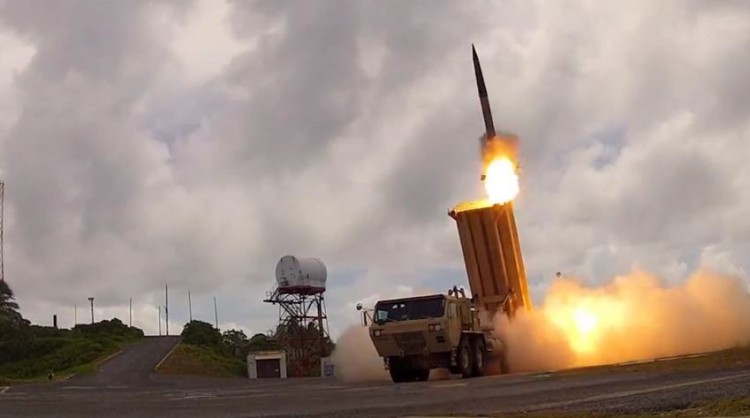 The United States has started to deploy the hotly debated anti-missile system to South Korea after the test launch of North Korea's medium-range missiles on Monday. The Terminal High Altitude Area Defense (THAAD) is considered to be one of the best anti-missile systems conceived to counter missile threats from hostile countries.
Beijing has denounced the move of the United States as a substantive threat to China's security measures. THAAD systems are already in place in Guam and Hawaii in order to combat missile launches from North Korea as reported by NBC news. The starting elements of the THAAD system has already disembarked in South Korea according to US defense officials stationed there.
Hwang Kyo-ahn, South Korea's acting president and prime minister has told the United States to install the THAAS system quickly in order to have a reliable shield to protect the country against a nuclear-armed North Korea. US defense officials has clarified that the missile defense system is only used for defensive purposes with a sole objective to defend South Korea against missiles from the North.
White House Press Secretary Sean Spicer said on Monday that the deployment of THAAD is a sign that the United States is serious in enhancing the ability of the country to defend against ballistic missiles coming from North Korea. Another objective is to protect its allies like South Korea in the Asian region.
According to BBC, China has become angry with the United States because it sees the move as an infringement of military power while a lot of South Koreans said that the THAAD might become a target that will endanger the lives of civilians near military installations. The US Pacific Command has assured the public that the launch of multiple missiles from North Korea has shown the discretion of the alliance decision made last year to move forward with the THAAD deployment in South Korea.
© 2023 Korea Portal, All rights reserved. Do not reproduce without permission.