Song Il Gook Wants Triplet Sons Daehan, Minguk, Manse Images Spared From Politics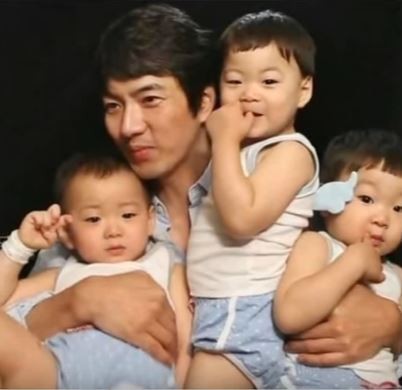 Actor Song Il Gook made a recent appeal to the public concerning his famous triplet sons Daehan, Minguk and Manse. The "Jumong" star said he's requesting as a parent to spare images of the triplets from being used for political purposes. The Song triplets' names happen to form a popular Korean cheer as Daehan means "Korea," Minguk means "Republic" and Manse means "Long live" or "Hurray." So altogether the triplets' names mean "Long Live the Republic of Korea." This, together with the young boys' popularity, make them irresistible for campaigns.
The 45-year-old father of the triplets took to Twitter on Sunday to carry his appeal to the public. Song Il Gook shared a screenshot of a text that called for a Korean flag rally that included a popular image of his sons Daehan, Minguk and Manse alongside an image of South Korea's national flag. He said an acquaintance who received the text brought the matter to his attention. "Please do not use images of our children for such political purposes. I ask this as a parent," tweeted Song Il Gook. The country recently celebrated the March 1st Movement or their Independence Declaration Day which brought some issues for celebrities such as K-Pop superstar G-Dragon and actor Kang Dong Won.
Song Il Gook and his triplet sons Daehan, Minguk and Manse joined the KBS2 reality-variety show "The Return of Superman" (also known as "Superman Is Back") from July 6, 2014, to February 7, 2016. The "Jang Yeong Sil" actor shared he only ended up with the boys' names because "the names stuck" on him for ten months. He also revealed that he worried most with the youngest Manse's name because "it might sound funny" but thought Manse would "endure well" considering the boy's personality. While Daehan's known to be uptight and loyal to his daddy, Minguk is the music lover and the smart one who took after their mommy, Manse is known to be free-spirited and a girl magnet.
© 2018 Korea Portal, All rights reserved. Do not reproduce without permission.