Kpop Idols Reign Over Weibo's List Of Most Influential Korean Celebrities In China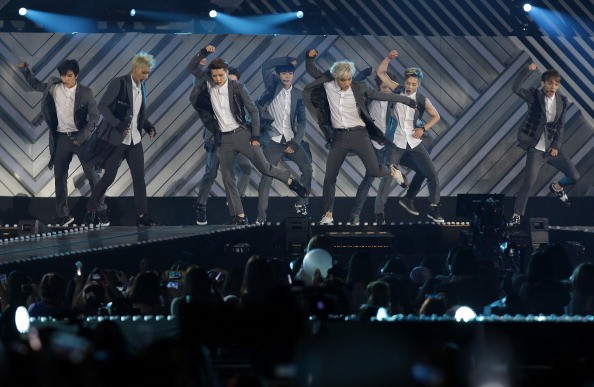 Several Kpop stars nabbed the top spots on Weibo's Most Influential Korean Celebrities list for January. Members from EXO and f(x) such as Sehun and Krystal, respectively, landed at first place with other idols like Baekhyun and Chanyeol, as well as Girls Generation Yoona, charting on the said list.
EXO singer Sehun and f(x) band member Krystal were identified as two of the most influential Korean artists in China, according to Weibo's Powerstar list, as cited by Koreaboo. For the month of January, the two Kpop idols topped the male and female category lists on the said chart with Sehun earning 50,169 points and Krystal with 30,837 points.
Apart from Sehun, two other EXO band members made it to Weibo's list. Kpop idols Baekhyun and Chanyeol nabbed the second and sixth spots with 29,862 and 12,485 points, respectively. Big Bang leader G-Dragon also landed on the said chart at number eight with 6,550 points.
Non-Kpop idols also charted on the list such as "My Love from the Star" actor Kim Soo Hyun, Lee Jong Suk and Song Joong Ki at numbers three to five. "The K2" star Ji Chang Wook nabbed the seventh place, while Nam Joo Hyuk and Lee Min Ho occupied the last two spots on Weibo's top 10 list for male Korean celebrities.
Meanwhile, Krystal topped Weibo's female Korean celebrities list with Girls Generation Yoona at second place followed by IU. The two Kpop idols earned scores of 15,783 and 11,455 points, respectively. Other female Korean stars who made it the list includes "Descendants of the Sun" actress Song Hye Kyo, Song Ji Hyo, T-ARA band members Jiyeon and Hyomin, as well as Park Shin Hye, Jessica and Jun Ji Hyun.
In other news, f(x)'s Krystal was recently spotted rubbing elbows with some of the biggest names in the fashion industry during the recently held Milan Fashion Week, according to All Kpop. The Kpop idol was photographed looking sexy in a sleeveless leather dress with a panel bodice design that consisted of snake-like patterns and a bold pink-colored strip.
The Milan Fashion Week was held from Feb. 22 until Feb. 28 in Italy. Aside from Krystal, several Kpop idols also attended the event such as Suzy and Shinee's Minho.
© 2023 Korea Portal, All rights reserved. Do not reproduce without permission.