Kim Gu Ra Gives Valentine's Day Advice For T.O.P. And Junsu In The Military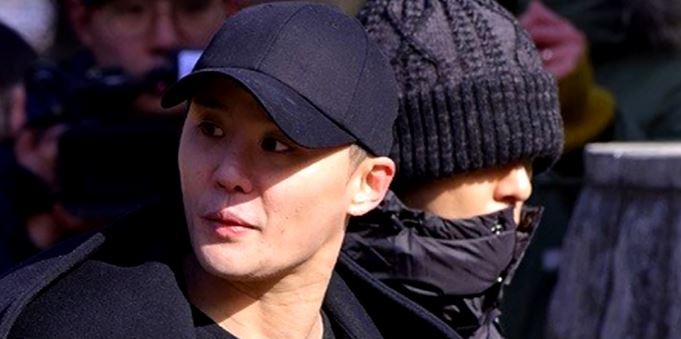 Comedian-host Kim Gu Ra offered an unsolicited advice for K-Pop idols T.O.P. and Junsu who have recently enlisted in the military.
The 46-year-old TV and radio host thought of Big Bang's T.O.P. and JYJ's Junsu on Valentine's Day episode of "One Night of TV Entertainment" and gave them a word of advice while the two men serve their military duties.
"There's something I want to say to the two," all K-pop quoted Kim Gu Ra as saying. "The weather's very cold. The hotel controversy is probably not in Junsu's mind right now and Big Bang is also probably not in T.O.P's thoughts. Surviving in there is first. I hope they do well in training."
The two idols quietly enlisted in the military February 9 through some of T.O.P.'s fans disregarded his request to enter without any fanfare.
The 30-year-old JYJ singer-songwriter and stage actor have been caught up in controversies during the days leading to his enlistment.
The controversy erupted after he sold his Toscana Hotel in Jeju island last month at a whopping price of 24 billion KRW (21 million USD) that reportedly earned him a net profit of 3 billion KRW (2.62 million USD), according to Koreaboo.
Hotel employees stepped out and revealed alleged mistreatment and financial grievances such as missing or delayed wages, no retirement fund and no communication from the management.
Junsu addressed the controversy a couple of days before his enlistment.
"I'm leaving the entertainment world for a year and 9 months, so I thought I'd just close my eyes and ignore it," wrote Junsu on Instagram, according to all K-pop.
"However, I think it's now gone from defamation of character to character assassination," he said and denied that he ever committed any misconduct regarding his business practice.
"Reports are making it seem as if I'm a person who took advantage to profit and left or took money from the public, but that's not true," he said.
T.O.P., meanwhile, has already been missed as Big Bang members G-Dragon, Taeyang and Seungri took to social media to show signs of T.O.P. withdrawal.
© 2023 Korea Portal, All rights reserved. Do not reproduce without permission.
Tags:
Kim Gu Ra
,
T.O.P.
,
BIGBANG T.O.P.
,
T.O.P. mandatory military conscription
,
T.O.P. military enlistment
,
T.O.P. withdrawal
,
JYJ's Junsu
,
Big Bang
,
Big Bang Daesung
,
Big Bang G-Dragon
,
Big Bang Taeyang
,
Big Bang Seungri
,
JYJ
,
Junsu
,
Junsu military enlistment
,
Junsu hotel controversy
,
Junsu Toscana Hotel
,
G-Dragon
,
Taeyang
,
Seungri
,
Daesung