Big Bang's Seungri Reveals T.O.P. Withdrawal Too?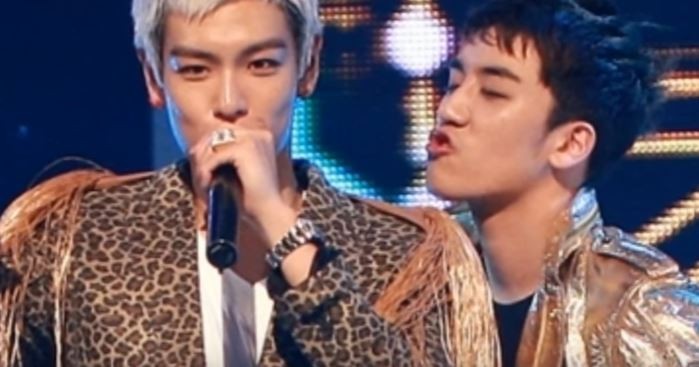 Big Bang's Seungri revealed he already misses bandmate T.O.P. less than a week before the latter enlisted in the military.
The youngest Big Bang member showed his affection for the group's main rapper and the oldest member who left for the military Thursday and will be discharged 21 months later.
Seungri posted Monday on Instagram a recent photo of the five members and wrote, "Let's meet soon. #2017 #Big Bang calendar #DVD is funny #Because we had fun filming it."
The 26-year-old Big Bang member added, "I already miss T.O.P hyung."
Seungri is the latest bandmate to show signs of T.O.P. withdrawal. G-Dragon and Taeyang also took to their Instagram accounts to express how much they already miss T.O.P.
Big Bang appeared January 4 on MBC's "Weekly Idol" where the members paired up the youngest and the oldest member for the "apple game."
"Why do you two look awkward?" asked MC Jung Hyung Don.
"We're not awkward with each other, the members just say we are," explained T.O.P.
Jung Hyung Don then asked, "Then just keep contacting each other (phone call)?"
Seungri and T.O.P. responded at the same time with different answers.
"We do keep in contact," said Seungri.
T.O.P., however, answered, "We don't keep in contact."
So Seungri asked him, "What do you mean?"
"I'm just joking," T.O.P. said with an amused expression.
They both succeeded the game and proved they're not awkward at all.
T.O.P. also showed just how fond he is with Seungri when he repeatedly took to Instagram in 2015 to tease him with funny photos and captions.
The 29-year-old rapper kept teasing Seungri as the "sexy boy" as he posted candid photos of the youngest member showing off some bare chest or sleeping in a funny position.
In MBC's "Radio Star," however, T.O.P. explained why he banned Seungri from his house.
The avid art collector T.O.P., who keeps an expansive art collection at home, hilariously impersonated how Seungri would go about his house that made him reach this decision.
© 2023 Korea Portal, All rights reserved. Do not reproduce without permission.
Tags:
Seungri
,
Big Bang Seungri
,
Big Bang
,
Big Bang Daesung
,
Big Bang G-Dragon
,
Big Bang Taeyang
,
T.O.P. Big Bang
,
T.O.P.
,
T.O.P. mandatory military conscription
,
T.O.P. military enlistment
,
T.O.P. withdrawal
,
T.O.P. and Seungri
,
G-Dragon
,
Taeyang
,
Daesung
,
Big Bang Weekly Idol
,
Weekly Idol
,
Radio Star
,
Radio Star Big Bang