G-Dragon And Taeyang Show Signs Of T.O.P. Withdrawal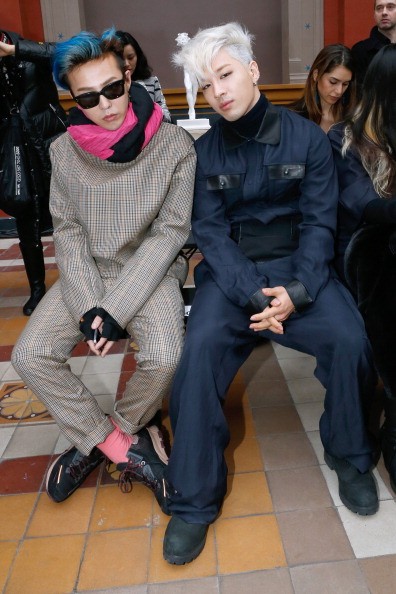 Big Bang's G-Dragon and Taeyang revealed signs of T.O.P. withdrawal shared by millions of fans as T.O.P. finally left for his military enlistment.
G-Dragon and Taeyang took to social media to express just how much the oldest Big Bang member means to them.
The 28-year-old Big Bang leader posted Friday a throwback blurry photo of himself and T.O.P. together. They wore similar sweaters with G-Dragon's left arm hung over T.O.P. in a friendly hug.
The duo, known simply as GD & TOP, began as a Big Bang sub-unit in November 2010. They released the hit songs "Zutter," "Knock Out" and "High High."
"There is only one thing I was upset at G-Dragon for. I've had to talk someone else about my girl problems since then," T.O.P. said on MBC's "Weekly Idol" Wednesday episode.
T.O.P. earlier announced that he didn't want to see his bandmates before taking off because it would be difficult for him.
"I miss my dongsengs, I'm not going to see them before enlisting because I'll miss them too much :P, on" wrote the rapper-actor.
"You're such a monster," responded G-Dragoin the comment section of the post and added, "Let's meet! Please Facetime me at least,hyung!"
Taeyang also begged, "Please meet us~ please..."
G-Dragon did get to see T.O.P. just in time before the latter entered the military Thursday.
G-Dragon shared the captured moment on an Instagram photo and wrote, "Hyung."
Taeyang also posted a fanart of T.O.P. marching off in a military outfit while the rest of the Big Bang members held tightly on one of his legs.
"T.O.P, goodbye and see you soon," wrote Taeyang.
T.O.P. admitted that he cried hard when Taeyang wrote him a letter while he was filming overseas.
""He was having a really difficult time," explained Taeyang on MBC's "Radio Star." "I wondered how I could comfort him a bit, and then I gave him a letter on the day he went to Germany. He really liked it."
"It said at the end, 'I love you,'" revealed T.O.P. "It's a phrase that is very hard for men to say to each other, because we're shy about it."
© 2023 Korea Portal, All rights reserved. Do not reproduce without permission.