IU And Yoo In Na Dated Each Other On Valentine's Day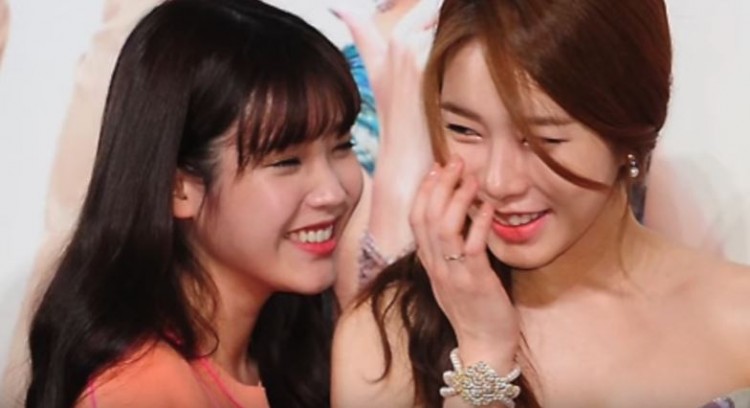 Singer-actress IU and actress-DJ Yoo In Na turned out as each other's Valentine dates as the both appeared to be single.
The real life celebrity friends showed off Valentine's Day their friendship rings as the best friends appeared to have spent the special day together.
The 23-year-old Korea's "little sister" posted on Instagram Tuesday photos of herself and her 34-year-old best friend.
The first photo captured both celebrities looking up at the mirrored ceiling as they waited for their order. Yoo In Na smiled beside a pink heart emoticon while IU's lower face was partially covered with a red heart.
IU captioned the second photo "IU In Na," a wordplay of their names combined together. The picture was a close-up of their golden friendship rings embellished with colored geometric figures and lines. IU wore hers on her index finger while Yoo In Na, who wore a matching bracelet, wore hers on her little finger.
IU and her boyfriend of four years indie singer Jang Ki Ha broke up last month amid dating rumors between IU and her "Moon Lovers: Scarlet Heart Ryeo" co-star Lee Jun Ki.
Yoo In Na also dressed as Santa Claus at last year's Christmas as she dropped off her gifts at IU's house.
IU shared the video on Instagram and wrote, "Yoo Santa sent this and really came to my place looking like that, thankfully she didn't run into anyone in the elevator."
The BFFs instantly clicked when they first met at the variety show "Heroes." Yoo In Na considered herself lucky to have found a friend and soul mate in her younger friend.
"IU and I are very comfortable with each other now. We both have the assurance that we will be friends for the rest of our lives," she said in an interview with enews in 2014, according to mwave.
"It's really rare to meet a friend like that in the world of entertainment, so I feel lucky," she added. "I went through some tough times in the past and went through a slump. I wondered if I had chosen the right path as an actress, but earning a friend like IU at the time gave me comfort and that itself made it worth the fight."
© 2021 Korea Portal, All rights reserved. Do not reproduce without permission.