Big Bang's T.O.P. Reveals Where His Money Goes And Why Seungri Can't Go At His Place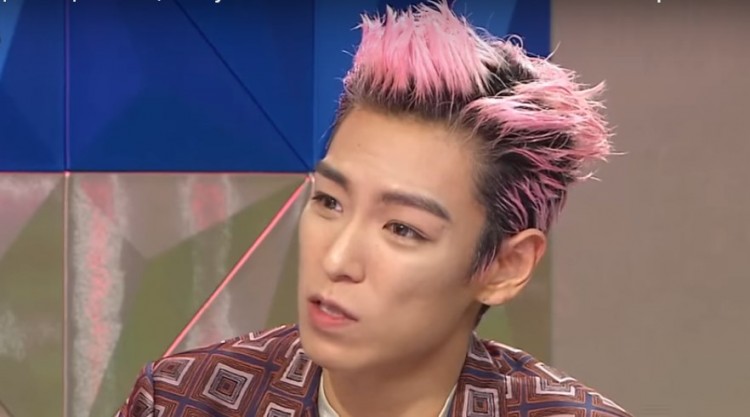 Big Bang's main rapper T.O.P. revealed a huge part of his income goes one way and that he's banned Seungri from his place.
Big Bang recently appeared as guests on MBC's "Radio Star" where the MCs drilled the members about their personal lives and prompted them to reveal interesting stuff about each other.
For one, the group's oldest member at 29 confessed that he spends a huge chunk of his earnings on his collection of art pieces.
"I spend at least 95 percent of my income on buying new art," Soompi quoted the singer-actor as saying.
He revealed that his taste ranges on a variety of artworks including that of Andy Warhol and Kim Hwan Ki. He even had a refrigeration system installed at his place to keep the art collection well-maintained.
It's also, for this reason, T.O.P. admitted, that he banned Big Bang's youngest member Seungri from his house. To prove his point, T.O.P. made a hilarious impersonation of Seungri and the specific behavior that got him off of his T.O.P.'s house.
T.O.P. collaborated with "Sotheby's" a few months ago and became the first young Asian idol star to do so. He curated his art collection "#TTOP" where part of the profits was channeled to "The Asian Cultural Council."
The "Radio Star" MCs asked the singer the story behind his controversial toilet photo.
"It was all a misunderstanding," said T.O.P. "I uploaded that photo as a way to tease fans about our upcoming song 'FXXK IT' because it was about three days before we released it. I wanted to show a photo that represented 'I don't care, fxxk it', but a lot of people began taking it very seriously."
Yet he admitted that he's aware that the media reported him as the #1 among the celebrities with the most number of fans who chose to unfollow him. He said he understood why his fans unfollowed.
His bandmate G-Dragon said he also understood why.
"I almost unfollowed him too," he revealed.
Taeyang added, "It was really a very shocking picture."
T.O.P. revealed that even YG Entertainment CEO Yang Hyun Suk reacted at the infamous photo and sent him a text message that read, "You're either crazy or you just don't have common sense. I think it's both."
© 2023 Korea Portal, All rights reserved. Do not reproduce without permission.
Tags:
T.O.P.
,
T.O.P. Big Bang
,
T.O.P. revelations
,
T.O.P. Instagram photo
,
T.O.P. toilet photo
,
T.O.P. income
,
T.O.P. art collection
,
T.O.P. Sotheby's
,
Big Bang
,
Radio Star Big Bang
,
Andy Warhol
,
Kim Hwan Ki
,
Seungri
,
BIGBANG Seungri
,
#TTOP
,
Sotheby's
,
FXXK IT
,
G-Dragon
,
Bigbang G-Dragon
,
Taeyang
,
Bigbang Taeyang
,
Yang Hyun Suk
,
YG Entertainment