Ban Ki-moon Will Not Run For President In South Korea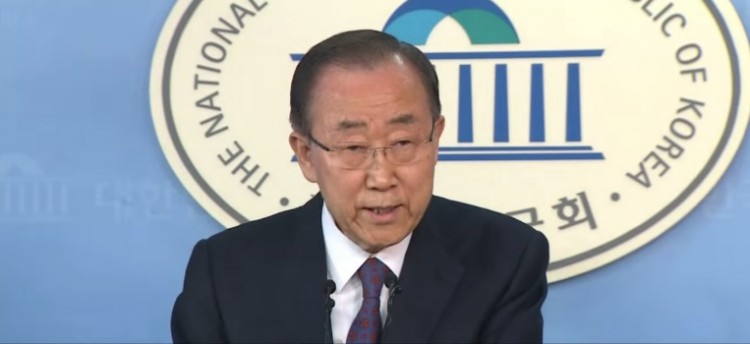 Former UN Secretary-General Ban Ki-moon announced Wednesday that he will not run for the presidential elections this year in South Korea. "I give up on my aspirations to achieve a change in the political landscape and to unite the people under my mandate," Ban said at an impromptu press conference in the National Assembly released by the Yonhap agency.
Ban was the second best candidate in polls to be the new president, behind Moon Jae-in, former leader of the main opposition bloc, the Democratic Party.
"I have been very frustrated by the parochial and selfish attitudes (of the political circles of the country) and I have come to the conclusion that it does not make sense to try to achieve something with their cooperation," he added. Since returning to his country on January 12, after leaving his post as United Nations Secretary-General, which he held from 2007 to 2016, Ban had explored the possibility of appearing in the presidential elections.
South Korea is plunged into a deep political crisis after unveiling the corruption scandal of a close friend of the current president, Park Geun-Hye, whom Parliament dismissed in December.
Since he returned to his country last January 12 after leaving his post as the Secretary General of the United Nations, which he held between 2007 and 2016, Ban had explored the possibility to run for president.
However, different political parties have criticized his possible candidacy, while several media have accused Ban of receiving a bribe when he was foreign minister in the last decade hands of a businessman and have also linked his brother and his nephew in the case of corruption.
The Constitutional Court has until May to decide whether or not this parliamentary decision is effective and, if the dismissal is approved, presidential elections should be held within a period of no more than 60 days. Even if the Constitutional Court rejects the parliamentary impeachment, the elections to elect the head of State of South Korea have a date of celebration next 16 of December, since the mandate of five years of Park is about to expire.
© 2018 Korea Portal, All rights reserved. Do not reproduce without permission.