HaHa, Byul Reveal Struggles And Tender Moments With Second Child On The Way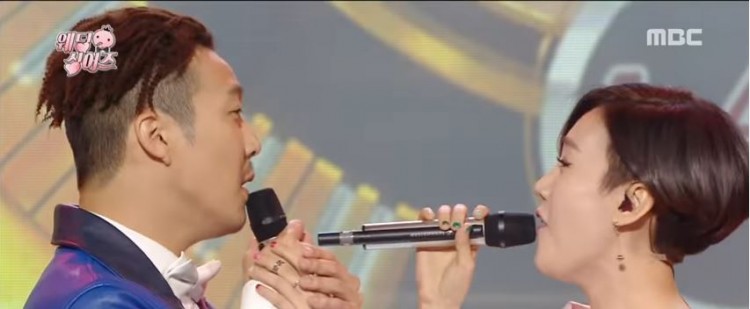 Celebrity couple HaHa and Byul revealed it's not always smooth sailing between them but melted viewers' hearts on how they fell in love in the first place.
The lovable celebrity couple gave the public a peek into their private lives when they were featured Sunday on MBC's "Human Documentary."
They married Nov. 30, 2012, and had their first child, Dream, a year later in July. Both their labels also announced in October last year that Byul was already four months pregnant with their second child.
"I have our second child. I wore my loosest clothing so I could hide it," said the singer.
Then she shared the difficulties she had to go through while being pregnant for the second time.
"HaHa was so busy this time around," Byul revealed. "He barely came home. I had morning sickness, and I lay in bed crying by myself. I'm not holding a grudge against him. We have two children now, so he has to work more."
The 37-year-old entertainer appears on several variety shows with upcoming projects "Rebound" and a high school rap battle show for Mnet. He also worked with Skull last year on the song "Love Inside" featuring Stephen Marley.
HaHa is a regular cast member in SBS' variety show "Running Man" which he films on Mondays and Tuesdays. He also co-hosts JTBC's "As I Say" alongside singer-songwriter and radio DJ You Hee Yeol and film the show every Wednesdays. He's a part of MBC's hit program "Infinite Challenge" which they film Thursdays.
Yet the hardworking husband revealed it was Byul's hard work and dedication to her family that impressed him.
"I thought, if I am to get married, it should be with this kind of person," said HaHa, according to Soompi.
The couple has worked on a radio show together and were close friends for seven to eight years. They secretly began dating in 2012 and surprised even Yoo Jae Suk, who was the only one who learned they were dating but only knew about it before they made their marriage announcement.
"I guess HaHa oppa's image is so childish that marriage didn't suit him. His hyungs were really disappointed," allkpop quoted Byul as saying on "Strong Heart" in 2012.
© 2023 Korea Portal, All rights reserved. Do not reproduce without permission.