Park Shin Hye Asks Co-Stars Tips For Rearing Cats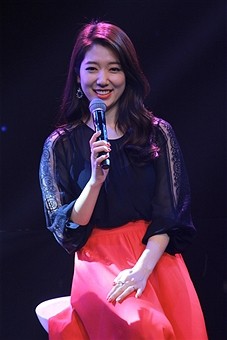 Actress Park Shin Hye adopted a cat last week and asked her "Doctors" co-stars for rearing tips.
The 26-year-old lead star of the SBS drama "Doctors" turned to co-star Lee Sung Kyung, who owns a couple of Russian Blues, for rearing tips, according to KPop Herald.
The fluffy grey cat named Haeri joins the beautiful actress' two white Maltese pet dogs named Nori and Bongji.
She won the Best Excellence Award at the 2016 SBS SAF Drama Awards Saturday night with "Doctors" co-star Kim Rae Won, "Legend of the Blue Sea" actor Lee Min Ho, "Beautiful Gongshim" star Namgoong Min, "Jackpot" actor Jang Geun Suk, "Moon Lovers: Scarlet Heart Ryeo" star Lee Ji Eun and "Jealousy Incarnate" actors Gong Hyo Jin and Jo Jung Suk.
Park Shin Hye has been romantically linked with her former drama co-stars Lee Min Ho (The Heirs), Jung Yong Hwa (Heartstrings), Lee Jong Suk (Pinnochio) and F.T. Island's Lee Hong Ki (You're Beautiful).
Lee Hong Ki, the singer-actor who's the same age as the actress, claimed that Park Shin Hye is just a friend and that he turns to her dating advice.
"She is a South Korean actress, but to me, she is a girl who is a friend. Nothing more, nothing less," Lee Hong Ki said on his show "Kiss The Radio," according to itechpost.
He also revealed in an interview with "Park Myung-soo's Radio Show" that Park Shin Hye is more mature than him.
"Despite not having many dating experiences, she is more mature than I am (in terms of dating)," he said. "She gives me a lot of advice about life."
"We have talked about issues or troubles with dating partners," he added. "I feel more comfortable speaking with her than my male friends."
Another singer, meanwhile, confessed to having a crush on the actress.
2PM's Taecyeon gave Park Shin Hye a personal message during his guest appearance on SBS Power FM's "Choi Hwa Jung's Power Time where he also admitted that he sent her a coffee cart on set.
Dating rumors between the two stars quickly circulated but Park Shin Hye remained tightlipped on her dating life.
© 2023 Korea Portal, All rights reserved. Do not reproduce without permission.
Tags:
Park Shin Hye
,
Park Shin Hye news
,
Park Shin Hye pets
,
Doctors
,
Doctors Crush
,
Lee Sung Kyung
,
Park Shin Hye Haeri
,
Park Shin Hye Nori and Bongji
,
Park Shin Hye 2016 SBS SAF Drama Awards
,
2016 SBS SAF Drama Awards
,
Kim Rae-won
,
Namgoong Min
,
legend of the blue sea
,
Beautiful Gongshim
,
Jackpot
,
Jang Geun Suk
,
Moon Lovers: Scarlet Heart Ryeo
,
Lee Ji Eun
,
Jealousy Incarnate
,
Gong Hyo Jin
,
Jo Jung Suk
,
Park Shin Hye and Lee Min Ho
,
Park Shin Hye and Jung Yong Hwa
,
Park Shin Hye and Lee Jong Suk
,
Park Shin Hye and Lee Hong Ki
,
Park Shin Hye and Taecyeon
,
The Heirs
,
Heartstrings
,
Jung Yong Hwa
,
Pinnochio
,
Lee Jong Suk
,
F.T. Island's Lee Hong Ki
,
Lee Hong Ki
,
Lee Hong Ki dating
,
You're Beautiful)