Taecyeon Disappointed At 2PM's Absence From Year-End Ceremonies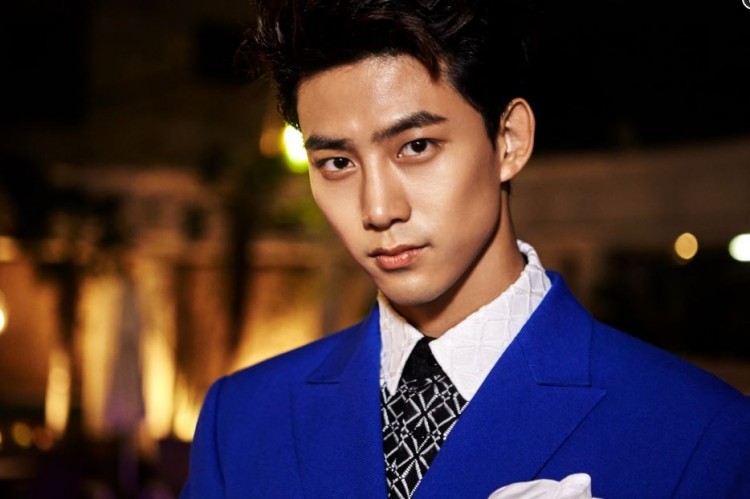 2PM's Ok Taecyeon expressed his disappointment for his band's absence from the year-end ceremonies in the light of his upcoming military enlistment.
The 27-year-old main rapper of JYP's eight-year-old boy band looked worn out after five performances for the Christmas celebration of his "Okcat" brand. He livestreamed the event and explained why 2PM won't be appearing on any of the year-end ceremonies.
"Unfortunately, 2PM decided not to participate in the end-of-year music awards. It's going to take a long time for us to show ourselves to you," he said before he added, "It's very disappointing."
He added that fans can expect an online event should the members be together on New Year's Eve though he himself doubted it would happen.
Taecyeon also previously informed fans that 2PM's sixth album "Gentleman's Game," released in September, would be the group's last promotion as they prepare for their military enlistment.
Taecyeon and 2PM's 28-year-old main vocalist Jun. K are scheduled to enlist for their military duties next year.
Jun. K recently finished his "Jun. K Solo Tour 2015 No Shadow" concerts in Japan where at least 20,000 fans attended and promised to wait for his return from military duty.
The group's 28-year-old Thai member, Nickhun, received an award at China's "2016 Trends Health" for the Most Influential Health Model Award.
The boy band's overseas popularity continued to soar as JYP Entertainment's CEO Jung Wook considered them the top JYP profit-makers for 2016.
They performed their 99th and 100th performances in Japan a few months ago for more than 100,000 fans.
Taecyeon was active in the acting field this year as he starred on tvN's "Hey, Ghost, Let's Fight," web series "First Seven Kisses" and "Touching You." He also co-hosted SBS' "Mommy" with TV personality Lee Hwi Jae.
Dating rumors between Taecyeon and 26-year-old actress Park Shin Hye began to buzz after the singer confessed his admiration for the actress during a radio interview on SBS Power FM's "Choi Hwa Jung's Power Time."
"Who wouldn't like her? She's so pretty," DramaFever quoted him as saying. "I sent the coffee cart knowing that I'll be joining the competition, but so many people also sent them."
He also gave a personal message for the "Doctors Crush" actress.
"Shin Hye yah, I enjoyed watching Doctors Crush. I hope you filmed well with the coffee cart I sent. Let's meet sometime soon. You are truly very pretty."
© 2023 Korea Portal, All rights reserved. Do not reproduce without permission.
Tags:
Ok Taecyeon
,
Taecyeon
,
2PM
,
2PM Taecyeon
,
Taecyeon and Park Shin Hye
,
Okcat
,
2PM news
,
Taecyeon military enlistment
,
Park Shin Hye
,
Jun. K
,
Nickhun
,
JYP
,
JYP Entertainment
,
JYP artists
,
top JYP profit-makers for 2016
,
Hey
,
Ghost
,
Let's Fight
,
First Seven Kisses
,
Touching You
,
Mommy
,
Lee Hwi Jae
,
Choi Hwa Jung's Power Time
,
Doctors Crush
,
2PM Japan
,
Gentleman's Game