Lee Kwang Soo Partners With UNICEF For #everychild Campaign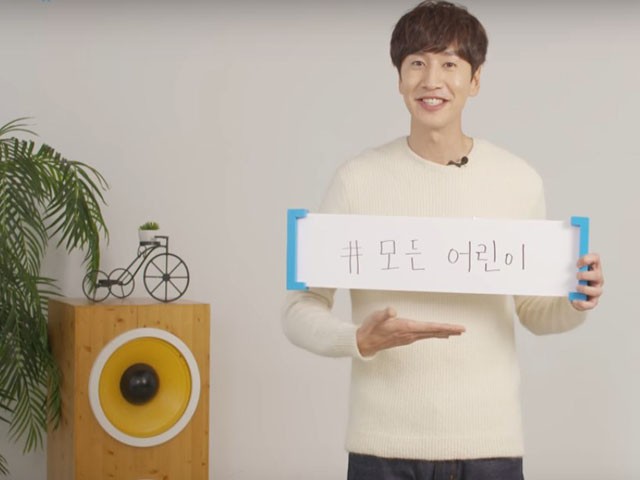 Actor Lee Kwang Soo joined the UNICEF campaign to help the less fortunate children all over the world.
According to allkpop, the actor's management label King Kong Entertainment released Thursday stills from the #EveryChild film making.
A smiling Lee Kwang Soo holding a #EveryChild banner is captured in a couple of photos while other shots reveal a more serious side of the actor-comedian as he read his script and write on a yellow-colored heart-shaped piece of paper.
Actress Kim Ji Won, another King Kong Entertainment star, also joined the same campaign. Behind-the-scenes cuts were released and captured the beautiful actress warmly looking at the camera and holding the same #EveryChild banner.
The campaign aims to raise funds for providing impoverished children with shelter, medicine, education and other relief goods. It started November 28 and will be completed February 19 next year, according to HanCinema.
The 31-year-old actor recently won the Top Excellence Award for Variety Show at the "2016 SBS Entertainment Awards" Sunday night. Lee Kwang Soo's emotional speech made his "Running Man" co-stars tear up.
"I was very happy for 7 years," he said at the end of his speech. "We will finish the program well. Thank u again and I will try my best and provide a healthy laugh."
South Korea's longest-running variety show "Running Man" will come to an end February 2017 after a casting controversy.
"Running Man" won only one award this year courtesy of Lee Kwang Soo.
King Kong Entertainment CEO Lee Jin-sung acknowledged that the variety show made Lee Kwang Soo popular but assured that there's life for the actor even after "Running Man."
"We're sad to see this happen because 'Running Man' was so well loved," KoreaHerald quoted the CEO as saying. "But for (Lee's) acting career, we've been thinking about when would be a good time to leave the show."
He added, "Although it's true that Lee gets a lot of offers for comical roles, he's recently been getting some offers for other characters based on the acting abilities he has demonstrated over the years."
© 2023 Korea Portal, All rights reserved. Do not reproduce without permission.