G-Dragon Reveals Why He Doesn't Admit Relationship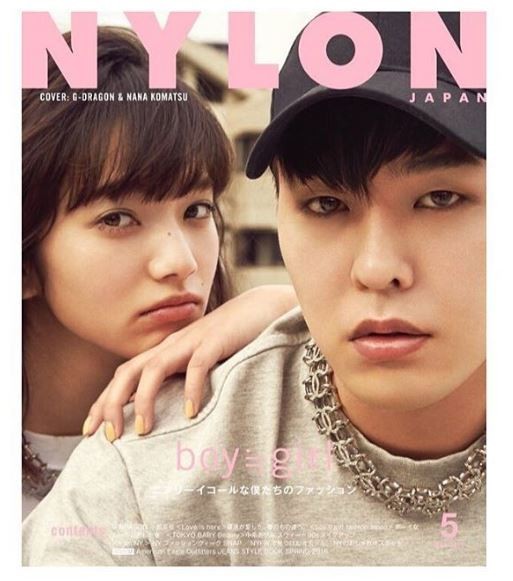 K-Pop icon G-Dragon revealed why never publicly admitted to a relationship as he broke his silence about the dating rumors surrounding him and Japanese actress-models Nana Komatsu and Kiko Mizuhara.
G-Dragon's dating life proved to be a juicy topic even on Wednesday's installment of MBC's "Radio Star" where the band made a rare guest appearance as a complete group.
MC Kyuhyun brought up G-Dragon's breakup and dating rumors that made headlines this year.
"Was it all this year?" said the 28-year-old singer-songwriter and fashion icon.
His rumored relationship with the 26-year-old American-Korean Japan-based Kiko Mizuhara ended last year.
Neither parties, however, confirmed nor denied the rumors.
G-Dragon also remained vague when he said, "The dating one is not certain yet. If I admit to breaking up, does it mean I am dating?"
"Neither is for sure," he added.
Rumors that the Big Bang star is now dating 20-year-old Nana Komatsu started after their intimate photos were leaked following a hacking incident on his Instagram account September 18.
The singer once again tried to downplay the leaked photos.
He explained, "I like hanging out with [romantic interests] when I'm with all my friends. I don't care about getting photos taken either, so I just always hang out in a group."
G-Dragon added that he doesn't have any qualms making his romantic relationships public.
He said, "Admitting to a relationship or not is up to each person, but I do think that a dating rumor is more damaging for the woman. If the woman wanted to make it public, I would have done it."
Yet no matter how interesting to the public G-Dragon's dating life may be, his bandmates revealed that he actually sucks at dating.
Unlike him, though, bandmate Taeyang admitted to dating actress Min Hyo Rin since 2013. He also put rumors to rest when he confessed that the woman behind the song "Eyes, Nose, Lips" is his current girlfriend.
Main rapper T.O.P. also revealed the number of his ex-girlfriends and why he avoids intimacy even as a couple.
© 2023 Korea Portal, All rights reserved. Do not reproduce without permission.
Tags:
G-Dragon
,
Bigbang G-Dragon
,
G-Dragon girlfriend
,
G-Dragon love life
,
G-Dragon and Nana Komatsu
,
G-Dragon and Kiko Mizuhara
,
G-Dragon dating expert
,
Nana Komatsu
,
Kiko Mizuhara
,
Radio Star
,
Radio Star Big Bang
,
Big Bang
,
T.O.P.
,
BIGBANG T.O.P.
,
T.O.P. girlfriend
,
T.O.P. revelations
,
T.O.P. dating
,
Taeyang
,
Bigbang Taeyang
,
Taeyang Eyes Nose Lips
,
Taeyang and Min Hyo Rin
,
Taeyang girlfriend
,
Taeyang love life
,
Min Hyo Rin